Ways to Give
Make an impact today. Thank you for supporting our mission!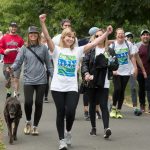 Join our Monthly Giving Team
Our Monthly Giving Team is a special group of donors who make a difference through recurring donations. Monthly gifts from team members help pay for education, support and research that enrich lives. A small monthly amount can have a huge impact!
Honor a loved one with a Tribute Gift
In lieu of a birthday or holiday gift, make a donation to APDA in honor of a beloved friend or family member. Or throw a party to honor someone impacted by PD, and ask guests to make a charitable gift.
Matching Gifts
Double – or possibly triple – the amount of your donation with a matching gift from your company. See if your company matches here: www.apdaparkinson.org/get-involved/ways-to-give/matching-gift-program/
Make a Qualified Charitable Distribution
Are you age 70-1/2 or older? A charitable IRA rollover allows you to transfer funds directly to APDA without having to recognize the distribution as income.
DIY Fundraising
Throw a party to honor a loved one impacted by Parkinson's. Plan a bake sale, chili cook-off or yard sale to benefit APDA. Or ask friends to support you in an adventure such running or biking for the fight against Parkinson's disease. Create your campaign online with APDA's support: www.apdaparkinson.org/get-involved/diy-fundraising/
Questions? Contact APDA Northwest at 206-695-2905