In last week's blog, we addressed the reasons why it is vital for people with Parkinson's disease to exercise, including (but not limited to) improving particular motor and non-motor symptoms such as impaired balance, gait disorders, depression, and cognition.
Today, we will tackle another important question – what types of exercise are most beneficial to help people with Parkinson's disease (PD) improve their quality of life? We'll also address several specific types of exercise designed for people with PD and some tips on how to get started with an exercise program.
Which types of exercise are best for Parkinson's?
It is important to state upfront that there is no one best type of exercise for people with PD. It is most important to choose an exercise regimen that you enjoy, and will continue to do.
However, beyond doing exercise that you will stick with, there are some additional concepts to consider when designing an exercise program for someone with PD.
The basic elements of exercising with Parkinson's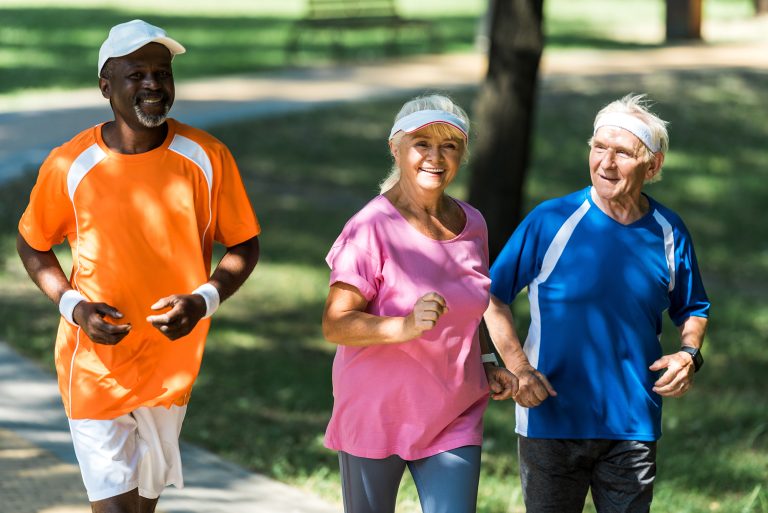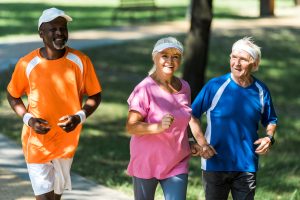 There are four core elements of exercise that are important for people with PD:
Aerobic – e.g. brisk walking, stationary cycling – activities that get the heart pumping
Strengthening – e.g. using weights or resistance bands to improve muscle strength
Balance – e.g. tai chi, dance to help you be more steady on your feet
Stretching – e.g. mat exercises, yoga to provide flexibility
Including all four of these elements in your exercise regimen is ideal (You can read more about the various types of beneficial exercise for PD in this informative conversation with PD expert Dr. Terry Ellis).
Aerobic activity or high-intensity exercise may be particularly important for Parkinson's and general health
High-intensity exercise has been formally studied in PD with impressive results. The Study in Parkinson Disease of Exercise Phase 2 (SPARX2) enrolled 128 people with early PD, who were not yet on dopaminergic medication (i.e., levodopa) into three groups:
a high-intensity treadmill exercise group, in which people exercised at 80-85% of their maximum heart rate
a moderate-intensity treadmill exercise group, in which people exercised at 60-65% of their maximum heart rate
a wait-list control group
After six months, the high-intensity group had essentially no change in their motor scores, whereas the control group had a three-point worsening of their motor scores.
Currently, the SPARX3 trial is enrolling participants and underway. This trial is similar to SPARX2, but with a goal of studying many more participants.
The aerobic exercise component that you chose to do should be sufficient to increase heart rate and need for oxygen. It should also be sustained (more than 10 minutes at a time) and repeated throughout the week. Here are some practical guidelines for aerobic activity:
The CDC recommends 150 minutes of moderate intensity exercise or 75 minutes of vigorous intensity exercise per week for all older adults (who are generally fit).
As defined by the Centers for Disease Control (CDC), during moderate intensity exercise, you should be winded enough so that you are able to talk but not sing.
During vigorous-intensity exercise, you should only be able to say a few words before pausing for a breath.
Of note, high intensity interval training (HIIT) is a form of exercise in which a person performs short periods of extremely demanding physical activity alternating with less intense exercise. This has become a popular exercise style in the general population, with studies showing that it may offer health benefits over exercise performed at a more constant demand level. There have been small studies that this type of regimen has benefits in PD as well.
Forced exercise
Forced exercise is a mode of aerobic exercise in which the rate is mechanically set above what the participant would achieve on their own. One example is tandem cycling in which a trainer sits in the front of the cycle and sets the rate of the cycling for the rear participant. The idea of forced exercise for people with PD is gaining traction and the benefits were reviewed here.
Cognitive challenges in exercise
There is evidence that introducing a cognitive component to exercise, such as learning a new motor skill, may be beneficial in Parkinson's. This concept supports the idea of adapting skill-based activities for people with PD, such as boxing, dance, tai chi, or yoga and may be one reason why these programs have taken off (more on these below). This paper reviews the evidence behind integrating cognitive challenges into exercise. You may also want to review our previous posts about boxing and dance for more information about those modalities.
New types of exercise for Parkinson's
Researchers are continually studying different types of exercise for PD and APDA works to keep you informed about these new findings.
How to start exercising if you're living with Parkinson's
Safety is key. The first thing you need to do is talk with your neurologist and primary care doctor to make sure that the exercise regimen that you embark upon is safe for you.
Next, ask for a referral for physical therapy. A physical therapist will be able to figure out what movement challenges you may have and design a program to help you improve. There are certain physical therapists with additional training in Parkinson's. Your physical therapist will work with you for your allotted sessions, and then can help you plan your ongoing exercise regimen that is tailored to you. You can contact the APDA National Rehabilitation Resource Center for Parkinson's Disease for help finding resources in your area.
Additionally, physical therapy can help counteract the tendency for people with PD to reduce the size of their movements. The Lee Silverman Voice Technique (LSVT) has designed a program called LSVT-BIG which trains participants to make big movements. You can search for an LSVT-trained professional near you.
Anyone starting out on an exercise program could benefit from APDA's Be Active & Beyond exercise guide which includes clear photos with simple instructions that are easy to follow, with exercises that address all levels of fitness.
Choosing the right exercise class for Parkinson's
When trying to find an exercise class to join, it can be hard to know which ones to try because there are many different types of classes that are marketed to people with PD. When you are evaluating a class, it is important to remember the following:
It is the components of the exercise class that are important (strength training, aerobic, balance, etc). You do not need to specifically do boxing or dance (or any other modality or class) if you can achieve these elements of exercise in other ways.
The instructor should have expertise in PD. APDA offers a training for fitness professionals which helps them better understand how to create exercise programs best suited for people with PD.
The ratio of class members to instructors should be low enough to maintain safety.
The class should be adaptable for people of different abilities and mobility. Many classes will offer seated options or other modifications.
It may take a few tries to find the types of exercise that suits you best – so don't give up! Feel free to try different classes in your area to see what types of exercise appeal to you. It can also be motivating to take classes together with a friend or family member. You can hold each other accountable, and also have some fun together. As you find classes you enjoy, you can incorporate those modalities into your exercise schedule. For help in finding classes in your area, you can contact one of our Chapters or Information & Referral Centers. There are also many virtual classes that you can join from home.
Tips and Takeaways
Consult your doctor before starting any exercise regimen.
Consider physical therapy as a first step in getting your exercise regimen safely underway. Choose a physical therapist who has expertise in Parkinson's.
Choose exercise modalities that you will enjoy and stick with. Consider exercising with friends for added motivation.
Aerobic, strengthening, balance and stretching are very important elements of exercise for people with PD. Try to incorporate all these elements into your weekly exercise.
In addition, consider exercise in which you will learn a new motor skill as this can add potential cognitive benefits.
APDA has many resources to help you get moving, including our Be Active booklet, our Virtual Events Calendar and much more.
Have a question about Parkinson's disease?
Our Scientific & Medical Affairs Department can provide expertise and resources to answer your questions and address your concerns.