Boxing and Parkinson's Disease
We know without a doubt that exercise is important for people with Parkinson's disease (PD).  Various types of exercise and movement can help people improve their balance, strength, mobility, flexibility, endurance and walking ability. Studies also reveal that exercise can help improve cognition, depression, fatigue, and sleep. We have discussed exercise in previous blogs and go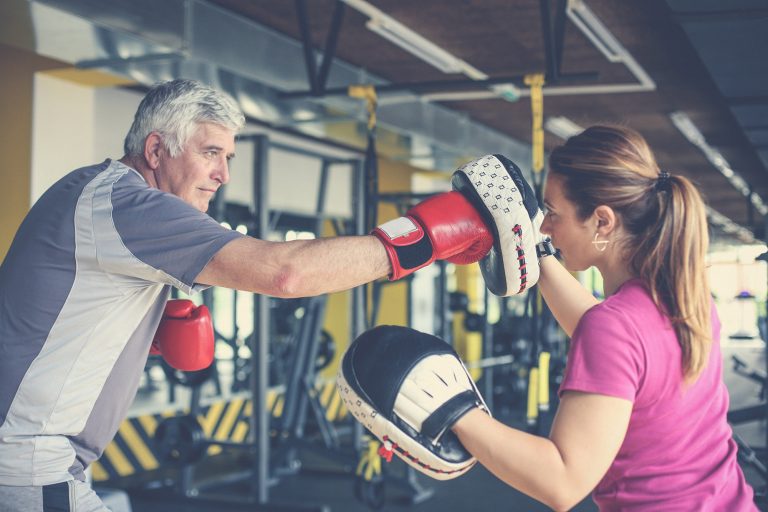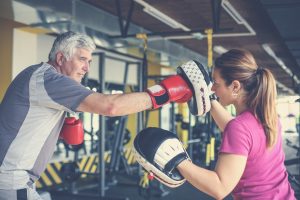 into great detail in our Be Active & Beyond exercise guide. We've also shared tips for exercising safely while at home during the pandemic. We often get questions about boxing as exercise for people with PD – especially about Rock Steady Boxing, a specific type of boxing class for people with PD that is offered around the country. For today's blog we'll share a bit more info about Rock Steady Boxing and get input from two experts on the topic so you can decide if this type of class is right for you. Note: Not every boxing-style class designed for people with PD is a Rock Steady Boxing class. There are some independently-run classes that are not affiliated with Rock Steady. For the purpose of this blog, we are specifically discussing the Rock Steady Boxing program.
What is Rock Steady Boxing?
Rock Steady Boxing is a boxing program designed for people with PD, based on exercises that are adapted from the world of boxing that emphasize agility, speed, endurance, accuracy, hand-eye coordination, footwork and strength. The exercises are meant to be vigorous and to push the participants beyond what they perceive they are capable of performing.  Various levels of training have been developed to meet the needs of people with PD at different stages of the disease.  Started at a gym in Indiana in 2006, Rock Steady Boxing developed a system to train fitness instructors across the country and now operates out of more than 870 affiliate locations worldwide. Those interested (personal trainers, physical therapists, boxing coaches, long term care facility staff, etc.) undergo a two-part Affiliate Training Camp — an online course, followed by an interactive in-person or virtual-based hands-on training. Trained personnel can then set up an affiliate Rock Steady Boxing program.
Rock Steady Boxing in the medical literature
Although there is a lot of anecdotal evidence that promotes Rock Steady Boxing, there have only been two small trials that sought to examine the clinical benefits of Rock Steady Boxing. In one study, 31 people with PD were assigned to either a boxing exercise training or traditional exercise for 24-36 sessions, each lasting 90 minutes over 12 weeks. Participants were tested before and after completion of training on measures of balance, balance confidence, mobility, gait velocity, gait endurance, and quality of life. Although the researchers state that their original hypothesis was that boxing would lead to greater improvements than traditional exercise, the study did not bear that out. Both groups demonstrated gains on multiple measures. No outcome measure demonstrated a significant difference between groups except for balance confidence which favored the traditional exercise group. Despite the fact that boxing was not shown to be better than traditional exercise, it did improve important measures of fitness.
In a second trial, six people with PD attended 24-36 boxing training sessions, each lasting 90 minutes over 12 weeks. Outcome measures of balance, mobility and quality of life were assessed at 12, 24, and 36 weeks. Each of the participants showed improvement on at least five of the 12 outcome measures at 12 weeks, which was sustained at 24 and 36 weeks.
Larger trials are needed to fully understand the effects of Rock Steady Boxing on PD and how it compares to other exercise modalities. 
We asked our experts about the effects Rock Steady Boxing has on Parkinson's
Despite limited clinical evidence, this program is tremendously popular and we get asked about it often. We aimed to find out more about Rock Steady Boxing by talking with two experts on this subject from the APDA community, Dr. Adena Leder and Dr. Terry Ellis. While the two have somewhat different outlooks, there is valuable insight to be gleaned from their unique perspectives.
Dr. Adena Leder is the Medical Director of the Adele Smither's Parkinson's Center, and Associate Professor, New York Institute of Technology (NYIT) College of Osteopathic Medicine. She is the Medical Director of the Nassau County APDA Information and Referral Center, based at NYIT. Dr. Leder is also a trained Rock Steady Boxing instructor.
Dr. Terry Ellis is an Associate Professor at Boston University, College of Health and Rehabilitation Sciences, and Chair of the Department of Physical Therapy & Athletic Training. Dr. Ellis is also the Director of the Center for Neurorehabilitation at Boston University and the Director of the APDA National Rehabilitation Resource Center housed at Boston University.
We asked Dr. Leder and Dr. Ellis their thoughts on Rock Steady Boxing.
Q: How did you first become involved in Rock Steady Boxing?
Dr. Leder: I am a movement disorder specialist and I primarily see patients. During my fellowship (in 2003) I became aware of the positive effects that exercise has on the PD population. During many years in private practice, it became apparent that insurance, including Medicare, does not cover enough physical therapy to actually help a PD patient throughout the year. For years I was trying to determine how to deliver an exercise program to the PD population that would be affordable and accessible to all. I first learned about Rock Steady Boxing from a 60 Minutes segment with Leslie Stahl and I knew right away that it was the program I needed to start in my community.
I became certified as a Rock Steady Boxing expert by taking a three-day course at the Rock Steady Boxing boot camp. When we started the program at NYIT, I personally ran some of the classes. I no longer actually run the classes because I have handpicked fitness professionals who can perform the job better than I can, and I continue to oversee, organize, help and supervise the program. The unique aspect of having the program at the university is that we accept donations and grants and therefore we can offer scholarships to boxers who are unable to pay for the class. No one is turned away for financial reasons.
Q: What are the advantages of Rock Steady Boxing for people with PD? Any disadvantages? Safety concerns?
Dr. Leder: One of the main advantages of Rock Steady is that there is a high compliance rate. It is fun and social and therefore patients enjoy coming. The more they come the better they feel. There are two different types of classes. One is for patients who are not at risk of falling and the other is for patients who either are at risk of falling or actively fall. When the class is in person (most classes are currently virtual due to the pandemic), we always have medical student volunteers who are there to watch and guard those who may be at risk of falling. They are also able to take blood pressures when someone feels lightheaded
The main disadvantage in our program is that more patients wish to come to a class than we can accommodate! Otherwise, there are no more safety concerns as compared to attending a typical gym — perhaps less, because the program caters to a special population and has safety guards in place to protect against falling, which a regular gym does not.
Dr. Ellis: It is important to note that it is the components of boxing that may help symptoms of PD. We know that the components of exercise that can help PD include strength training, aerobic training and balance training, among others. These elements can be accomplished with many different exercise modalities and routines, with boxing potentially as one of them.
Boxing for PD gets a lot of press and is marketed widely, Rock Steady Boxing in particular – but perhaps beyond what the current evidence supports regarding the benefits for PD. Because of the publicity and popularity, some people who are doing other exercise programs (and not boxing) think that they are missing out and/or not doing the right thing for their PD, and there's no support for that. There are many exercise modalities that can help them.
You often hear about the camaraderie of the Rock Steady Boxing classes, the social engagement that they engender, which is of course, is very positive and beneficial. But it's important to note that this is not unique to Rock Steady Boxing.
Q: Are all Rock Steady Boxing courses the same? Do you have advice for people looking for classes on how to find a good one?
Dr. Leder: All programs are not the same. The instructors and the class format can vary quite a bit. Most often, people will  simply go to the one that is closest to where they live, but they might want to  trial a class before they sign up to make sure they like the instructor(s) and it feels safe for them.
Dr. Ellis: In my experience, there is a lot of variability in the quality of the classes. In order to become an instructor in the program training is required, which is great, but the variability in instructors still remains. Some instructors come from the world of boxing and fitness; others, from the medical world.
It is important for anyone who teaches these classes to have some expertise in PD. Understanding elements of PD such as freezing of gait, postural control deficits, fall risk and on/off periods, that are unique to PD can make the class safe and more effective for people with PD. Invariably, a program overseen by movement disorders specialist like Dr. Leder will be enhanced by her PD expertise.
I recommend looking for a class with a low instructor:student ratio so that everyone can be observed appropriately. If there are too many students, especially if students have more advanced PD symptoms, the situation in the class may not be safe. You should also look for a class that challenges you appropriately (based on your fitness level and PD symptoms) and gives you an adequate dose of aerobic, strengthening and balance exercise. Also look into who teaches the class – does that person have expertise or some training/education in PD beyond the Rock Steady Boxing instruction? You may want to try out a class ahead of time to get a sense of these elements. (FYI, APDA offers a specialized online training program for fitness, health and wellness professionals to learn how to more safely and effectively work with people with PD.)
The Bottom Line: Exercise and PD
Rock Steady Boxing can be a great way for people with PD to get exercise and socialization, although it is certainly not the only way. Talk with your doctor about whether Rock Steady Boxing is a good addition to your activities and look for a class that will challenge you in a safe and monitored environment. And if boxing is not for you, don't worry! There are many types of exercise that benefit people with PD — you can try different classes until you find what suits you best.
Tips and Takeaways
Many types of exercise can benefit people with PD; boxing is one of them.
APDA has many resources to help you learn more about exercise and incorporate it into your PD treatment plan.
Rock Steady Boxing is one potential way of obtaining the exercise elements (aerobic training, strengthening, balance training) that are important in PD.
There is some limited clinical trial evidence that Rock Steady Boxing is helpful in PD, however it has not been shown to be better than traditional exercise modalities.
When investigating classes, look for one with a low instructor:student ratio and that is taught by someone with some expertise in PD. (This holds true for any type of exercise class.)
As always, talk to your doctor before beginning any new exercise program.