AAN 2019 and what it means for breakthroughs in Parkinson's research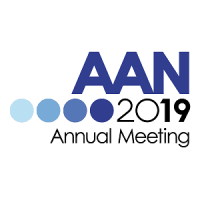 The American Academy of Neurology (AAN) Annual Meeting took place last week in Philadelphia, PA. This AAN meeting brings together neurologists and neuroscientists across all subspecialties of Neurology, including Movement disorders and Parkinson's disease (PD). Research findings are presented at the meeting, often for the first time, and it was exciting to hear and see the latest reports on the promising research being done for people living with PD.
We have compiled a selection of what we thought were the top 12 highlights from AAN 2019, along with takeaways that help you understand what these results can mean for the Parkinson's community.
Our 12 takeaways from the AAN 2019 Annual Meeting
1. A First in Human Study of PBT434, a Novel Small Molecule Inhibitor of alpha-synuclein aggregation (Stamler et al – S4.001)
Accumulation of alpha-synuclein may be the main problem that causes nerve death in PD. PBT434 had been tested in animal models of PD and was shown to decrease alpha synuclein accumulation, preserve neurons and improve motor function. This current trial is the first time the molecule has been given to humans. The trial was done in healthy controls (not in people with PD) and was found to be well tolerated.
Takeaway: Although a long way from being a medication to help people with PD, it is encouraging to learn about brand new approaches to treating PD that are being developed and tested. The next step will be to test this molecule in people with PD.
2. Once Daily Opicapone Increases ON-Time in Patients with Parkinson's Disease: Results from Two Phase 3 Studies (LeWitt et al – S4.003)
Opicapone is a newly developed Catechol-O-methyltransferase (COMT) inhibitor which acts to stop the breakdown of levodopa, allowing it to prolong the effects of a dose. Two phase 3 trials were presented in which opicapone was tested in hundreds of patients to determine if opicapone is safe and effective. Results showed that opicapone increased the amount of time in the day that levodopa worked well, without increasing troublesome dyskinesias, although an increase in dyskinesias generally was reported.
Takeaway: With two phase 3 trials showing positive effects, opicapone is now being evaluated by the FDA for possible approval.
3. Results of an Open-Label, Dose Escalating, Phase I Clinical Trial Evaluating the Safety of a Human Neural Stem Cell Based Therapy in Parkinson's Disease (Kern et al – P1.8-014)
In PD, there is degeneration and death of the neurons that produce dopamine. One of the exciting potential treatments of PD is stem cell therapies that aim to replace these cells. The International Stem Cell Corporation presented an update on their ongoing study which uses their neural stem cells, derived in a unique manner, from an unfertilized human egg.
In this open label study, participants receive injections of the cells into the areas of the brain affected by PD. The participants are divided into three groups, with each group receiving an escalating dose of cells. So far, ten patients have received the treatment and eight have finished one year of monitoring and have entered the study's five-year safety follow up phase.
So far, the injections are well tolerated and no tumors, infections, or serious adverse events have been reported. Preliminary data shows that the group that received more cells did better on particular measures than the group that received fewer cells, but much more data remains to be collected over time.
Takeaway: Stem cell therapies are currently being studied in clinical trials to see if scientists can replace the cells that are lost in PD. If proven, this could lead to a new line of treatment possibilities for people with PD.
APDA has previously reported on the use of stem cells in PD research and a compelling stem cell study in Japan.
4. Can Art Therapy Improve Signs and Symptoms of Parkinson's Disease? Preliminary Results from the ExplorArtPD Study (Cucca et al – P2.8-013)
The effects of art therapy on PD symptoms has so far, not been well researched (read more about art therapy and PD), so this study aims to address that lack of data. The study showed that after a course of art therapy, patients showed improvement of visuo-constructional abilities, visual recognition and motor function. In addition, exploratory eye movements were increased.
Takeaway: Art therapy may improve visual symptoms as well as motor symptoms in PD, although bigger trials are needed to confirm this finding.
5. KICK-OUT PD: Mobility, Quality of Life, and Feasibility Outcomes in a Pilot Study of a PD-Specific Karate Intervention (Sennott et al – P2.8-015)
This study evaluated the effects of a community-based karate class designed for people with early to middle stages of PD. Participants adhered to the class schedule and reported enthusiasm for the class. After ten weeks of twice-weekly classes, improvements were noted in gait, quality of life and self-reported impression of change.
Takeaway: Karate for PD joins other PD-specific exercise and movement strategies that have the potential to positively impact mobility and quality of life. While the benefits of exercise for people with PD have been widely reported, it is exciting to learn about new types of exercises that have positive physical effects for people with PD.
You can learn more about the benefits of exercise for people with PD in our Staying Healthy, Keeping Fit webinar and you can download our free Be Active & Beyond exercise guide book.
6. Preclinical Development of a Novel Precision Olfactory Delivery (POD) – L-dopa Drug-Device Combination Product for the Treatment of OFF episodes in Parkinson's Disease (Satterly et al – P2.8-049)
This study describes the development of a levodopa formulation and device which allow for delivery of the medication into the nasal cavity. The system would be used to deliver medication during an OFF period on an as-needed basis
Takeaway: New levodopa delivery systems are being developed to introduce the medication during OFF periods which can be troublesome for people living with PD. Additional formulations of levodopa will provide doctors with more options so they can prescribe the best treatment for each individual patient.
7. A Phase 3 Study of Isradipine as a Disease Modifying Agent in Patients with Early Parkinson's Disease (STEADY-PD III): Final Study Results (presenter, Tanya Simuni, MD)
The STEADY-PD III trial studied the use of isradipine in slowing progression of PD. Isradipine is a calcium channel blocker, a medication approved for the use of high blood pressure. It had previously been studied in cell culture and animal models, and results suggested that it was able to protect neurons from degeneration. In this double-blinded, placebo-controlled trial, isradipine was given to early PD patients who were not on any medication. These patients were then followed for three years to see how their PD progressed.
The trial was much longer than prior neuroprotective trials, hoping to expose participants to the medication for long enough to see an effect. The results of the isradipine trial were highly anticipated and were revealed today. Unfortunately, the study did not show that isradipine was beneficial in slowing the progression of PD. There was no statistical difference between people taking placebo and those taking the medication.
Takeaways:
Failed trials are very disappointing, but are an important part of research. Knowing what doesn't work is nearly as important as knowing what works.
Just because something works in cell culture or animal models, does not mean that it will translate to work in humans. Clinical trials in humans must be done.
8. A Novel Levodopa/Carbidopa Prodrug (ABBV-951) 24-Hour Continuous Subcutaneous Infusion Treatment for Parkinson's Disease. (Rosebraugh et al – P3.8-037)
9. Efficacy of ND0612 for Nocturnal Problems and Early Morning OFF: A blinded Rater Study of 2 Dosing Regimens (Espay et al – P2.8-052)
Two posters listed above were presented concerning two different subcutaneous (under the skin) levodopa formulations that are in development. In both these systems, a carbidopa/levodopa solution is infused continuously into the subcutaneous tissue. The first poster presented data in six healthy controls who received ABBV-951 and demonstrated stable levodopa concentrations over 72 hours of infusion. In the second poster, 38 patients with PD were given one of two dosing regimens of ND0612 (either a 24-hour infusion or a morning dose, followed by a 14-hour daytime infusion). The 24-hour infusion regimen led to improved sleep and increased morning ON time.
Takeaway: Subcutaneous levodopa infusion is a delivery system in development that may result in better control of PD symptoms throughout the day. If a subcutaneous infusion of levodopa becomes available, it would be an additional way of delivering levodopa, potentially allowing for better control of PD symptoms. More research of these infusion systems is underway.
10. MRI Signature of Neuromelanin and Iron Pathology in Parkinson's Disease (Huddleston et al – S41.004)
In current standard MRI protocols, there is no reliable way to distinguish PD pathology. Therefore, MRI is not currently used as a tool to detect or monitor PD. This study aims to discover ways that MRI can be used for PD diagnosis and thereby act as a biomarker for the disease.
PD pathology is characterized by loss of neuromelanin and accumulation of iron, two substances that specific MRI protocols can detect. The study compared these MRI protocols in patients with PD and controls and found that, along with particular clinical features, the MRI protocols can lead to very high accuracy of PD diagnosis.
Takeaway: In the future, particular MRI sequences may be used to diagnose and monitor PD. Read about the search for biomarkers in PD.
11. Preliminary validation of a novel, comprehensive digital biomarker smartphone application to assess motor symptoms in recently diagnosed Parkinson patients (Lipsmeier et al – P4.7-005)
Multiple smartphone or smartwatch platforms are in development or have been developed to monitor motor symptoms of PD in a frequent and remote manner. One such system collected data on active testing (when the patient is asked to perform a movement) along with continuous passive monitoring.
The data collected was found to correlate well with the current best method of monitoring motor symptoms in PD – the United Parkinson's Disease Rating Scale. Most interestingly, this system is integrated into a current clinical trial, which means that this system will be able to provide data as to whether the trial medication is working or not.

Introducing an easier way to track your symptoms and manage your care.
Takeaway: Wearable technology for PD can be used to monitor whether a clinical trial medication works or not. Expect to see more research in this area with various apps and devices aimed to help better diagnose and treat PD. Read more about wearable technologies and PD.
Note: APDA has developed a new smartphone app to help you track PD symptoms and share info with your healthcare team.
12. Altered Dopamine Transmission in Peripheral Mononuclear Cells in Parkinson's Disease (Saadatpour et al P5.8-028)
Dopamine transporter (DAT) and tyrosine hydroxylase (TH) are two molecules that regulate dopamine and are found in dopaminergic neurons, the neurons that degenerate in PD. In previous work, these two molecules were also found to be present in peripheral mononuclear cells (PBMCs) – a type of immune cell that circulates in the blood, although it is unclear what role they play in this type of cell.
In this study, DAT and TH in the PBMCs of PD and control subjects were investigated. Interestingly, the level of these dopamine-specific molecules was consistently higher in people with PD than controls. This study suggests many possibilities – that the dopamine systems in cells other than neurons may be important in PD, that the peripheral immune system may play a role in PD, and that levels of DAT and TH in blood cells may act as a potential biomarker for PD.
Takeaway: This study suggests that the body's immune system may play a role in PD. There already is evidence that this is the case. In the future, treatments for PD may be developed that focus on the body's immune system.
This is just a sampling of the exciting things happening in the world of PD research. We are encouraged by these updates from the recent AAN conference and thankful for the dedicated researchers who are working tirelessly to find better treatments and ultimately a cure for PD, APDA will continue to update you concerning the exciting developments in PD research and potential treatments.