The Latest in Parkinson's Research from AAN 2021
The American Academy of Neurology (AAN) is the preeminent professional association for neurologists in the US dedicated to supporting and improving the profession of neurology.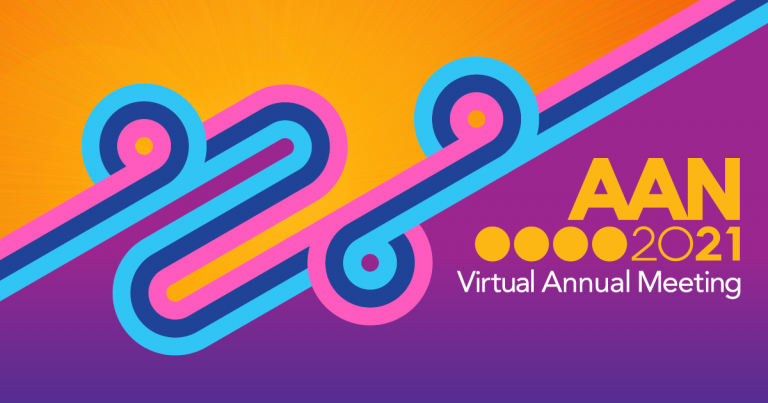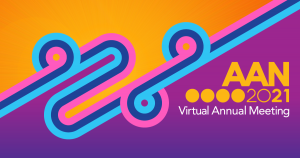 Every year, AAN holds an annual conference at which new data on all aspects of neurology, including Parkinson's disease (PD), is presented. APDA attends these meetings to learn about the newest research on Parkinson's disease and share that information with the wider PD community. In 2020, the AAN annual conference did not take place due to the COVID-19 pandemic. This year, the conference took place on a virtual platform from April 17-22, 2021, with multiple presentations, courses, posters, and exhibits broadcast live and archived for future views.
(You can read my AAN summaries from 2018 and 2019. )
This year, I am focusing on various poster presentations at AAN that addressed and expanded on important themes that APDA has been sharing with you over the past year. The following are some of the highlights of the AAN 2021 Annual Meeting, the key takeaway from each one, and the APDA information and resources that correlate to it.
1. Help for care partners of people with advanced Parkinson's
APDA resources: Care partners of people with advanced PD have many challenges that need addressing. We recently spoke with Lianna Marie, a care partner for her mother with PD for 30 years and a PD advocate, to get her thoughts and perspective on being a care partner. We also spoke with Kevin Klos, MD, a movement disorders physician and care partner for his mother with PD who shared his unique point of view as a doctor and a care partner.
AAN highlight: Fleisher J et al. presented Feasibility and Outcomes of Caregiver Peer Mentoring in Advanced Parkinson's disease. In this pilot study, care partners were matched with other, more seasoned care partners for education and support. Peer mentoring of this type was shown to be feasible and met with high satisfaction. It did not result in an improvement of scores of anxiety, depression or caregiver strain, but the researchers have taken lessons learned from this pilot study to design the next one. Takeaway: A peer mentoring program may be a feasible way to help care partners of people with advanced PD cope with the challenges they face.
2. Disease-modifying medications for Parkinson's
APDA resources: The PD research community is focused on finding a medication to slow down or even halt progression of the disease. To bring you the most recent updates, we recently hosted Dr. David Standaert to tell us the very latest on disease-modifying research, and also summarized the many research projects in the pipeline that are exploring this topic as well.
AAN highlight: Genius J et al presented Results from a Phase 1b Study of UCB0599, an Orally Available, Brain Penetrant Inhibitor of Alpha-synuclein Misfolding in People Living with Parkinson's Disease (PD). UCB0599 is a small molecule which interferes in the abnormal aggregation of alpha-synuclein.  In this double blinded, placebo-controlled clinical trial, the drug was shown to be well tolerated and it is currently in a Phase 2 clinical trial (NCT04658186) which is actively recruiting participants. Takeaway: A small molecule that may slow down disease progression is currently being tested in clinical trials for people with PD.
3. New Levodopa delivery systems
APDA resources: Levodopa remains the most effective medication in relieving the symptoms of PD. In recent years, new delivery systems have been developed to try to ensure that levodopa levels remain constant in the brain throughout the day. It can be confusing so we summarized the various options to help you better understand different ways Levodopa can be delivered.
AAN highlight: Facheris MF et al presented Efficacy and Safety of Foslevodopa/Foscarbidopa versus Oral Carbidopa/Levodopa in Advanced Parkinson's Disease Patients: Design of a Phase 3 Randomized, Double-Blind, Double-Dummy Active Controlled 12-Week Trial. This poster describes the study design that is currently testing a new soluble form of Levodopa, which is delivered via a subcutaneous pump (meaning the medication is pumped directly into the tissue beneath the skin.) (NCT 04380142).  Takeaway: Subcutaneous levodopa infusion is a new way to deliver carbidopa/levodopa that is being tested in clinical trial.
4. Exercise for Parkinson's
APDA resources: APDA cannot tell you enough about the benefits of exercise for Parkinson's! You can download our exercise handbook, hear from experts about how to get motivated to move, view our Let's Keep Moving With APDA series of webinars, and sign up for a free exercise class.
AAN highlight: Johnson R et al presented Feasibilty and Tolerability Randomized Clinical Trial of Golf Versus Tai Chi for People with Moderate Parkinson's Disease. In this study, two groups of people with PD were compared, one that exercised with Tai Chi and one that engaged in golf instruction. Golf was found to be safe and as tolerable as Tai Chi, supporting the need for a larger trial studying the potential benefits of golf for people with PD. Takeaway: Golf may be useful as an exercise strategy in PD.
5. The African American Parkinson's Disease experience
APDA resources: APDA is committed to serving all people with PD across the US. To that end, we are focused on reaching under-served and under-studied communities. You can read about a unique APDA grant that is funding research in the African American community. We also had a great presentation and conversation about the challenges of PD within the African American community.
AAN highlight: Hall D et al presented Quality of Life in African American and White Parkinson's Disease Patients which investigated the clinical features of PD in different populations. This study highlighted a few differences seen between African American and White people with PD. For example, African Americans showed decreased mobility and body discomfort as compared to White people with PD. Takeaway: Research is needed to understand how PD manifests in different populations.
6. Telemedicine for PD
APDA resources: Telemedicine is a vital way for our PD population to access Movement disorders care; and although it came to the forefront due to the pandemic, we think and hope telemedicine is here to stay. Learn more about this method of healthcare delivery and how to make the most of a telemedicine visit,  and listen to this expert conversation about virtual visits with your neurologist.
AAN highlight: Cubo Delgado E et al presented Adopting a Multidisciplinary Telemedicine Approach for Falls Prevention in Parkinson's Disease, a description of a telemedicine strategy to provide physical therapy remotely for the prevention of falls in PD. Takeaway: Telemedicine is potentially an important way to reach people with PD who can't access physical therapy.
7. Wearable technology for Parkinson's
APDA resources: Wearable technology for PD refers to an assortment of devices that can be worn which capture movement information. This information may be used to diagnose or characterize PD and potentially influence treatment decisions. We have summarized the basics of this wearable technology as it pertains to people with PD to help you understand more about this important topic.
AAN highlight: Yu et al presented A Novel Device for Continuous Assessment of Wrist Rigidity in Parkinson's Disease. The poster describes a newly developed instrument that assesses rigidity at the wrist. This information is used to measure motor fluctuations, or variations in clinical response to medication throughout the day and can inform decisions about medication dosage and timing. Takeaway: Wearable technologies are being developed to continuously and remotely monitor all clinical aspects of PD, including rigidity or stiffness.
8. Medical marijuana for Parkinson's
APDA resources: Despite little clinical trial data, medical marijuana is used frequently by people with PD for various symptoms. People with PD are eager for more information on whether and how to use this treatment to help PD. To help you better understand this popular topic, we have written articles about medical marijuana and cannabidiol (CBD) so you can learn what they are, how they work, and how they may, or may not help people with PD.
AAN highlight: Leehey MA et al presented Tolerability and Efficacy of Cannabidiol on Motor Symptoms in Parkinson Disease: Interim Report on Tolerability. In this poster, the preliminary results of a clinical trial investigating the use of cannabidiol for the motor symptoms of PD are presented. Cannabidiol was well tolerated by people with PD. Takeaway: We await the results of this study to inform us as to whether medical marijuana is a useful medication for treatment of motor symptoms of PD.
Tips and Takeaways
The AAN annual meeting is a platform for neurologists to learn about the newest advances in the neurological sciences and clinical care, including those related to Parkinson's disease
As always, APDA shares information with you about PD all year round and strives to continually provide you with the newest data and knowledge