TELEMEDICINE & PARKINSON'S DISEASE
Because of the COVID-19 pandemic, health care providers across the country started offering telemedicine as a method of receiving care in order to ensure the safety of the Parkinson's disease (PD) community and medical staff.
Telemedicine has many advantages for the PD community beyond just alleviating the pandemic-related safety concerns, and APDA and other PD groups are advocating to keep telemedicine in place even when the COVID-19 pandemic ceases to be a problem entirely.
Why is telemedicine useful for people with PD?
In day-to-day practice, MDS neurologists examine people with PD by assessing speech, facial movement, upper and lower extremity movement, walking, and tremor.  Because of the primarily audio and visual nature of the movement disorders examination that can be captured easily on video, telemedicine is uniquely suited for the evaluation of PD.  In fact, as part of the training of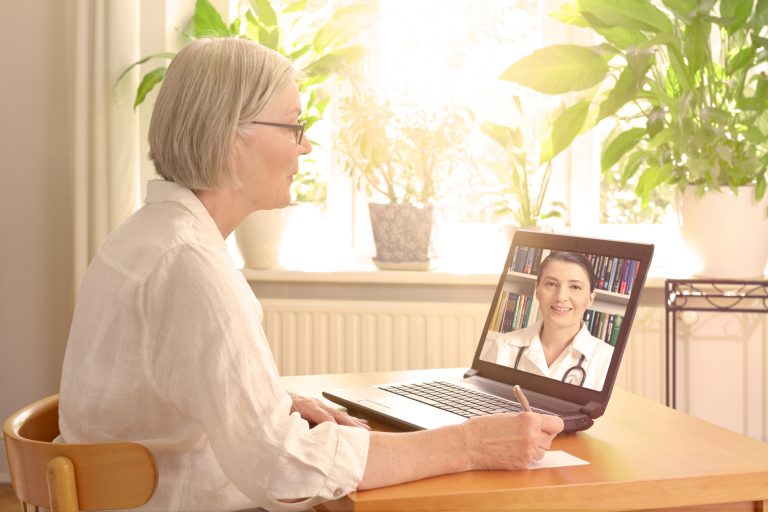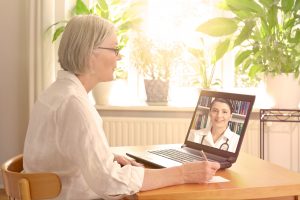 MDS neurologists, trainees often watch videos of each other's patients to learn about details of the examination.  In addition, many people with PD live in areas with few or no Movement disorders specialists, or even Neurologists, therefore they either see no specialist or must drive hours to receive specialized care.  As PD progresses, people may have more severe issues with cognition and movement or have a care partner who is older and has difficulty with mobility or driving. Winter weather can also limit their ability to get to their doctor's office. When people with advanced PD need care from their PD specialists the most, they may be at the highest risk for lack of access to specialty care because of difficulty leaving their home for a visit. For all of these reasons and more, telemedicine can be especially useful to evaluate and treat PD.
Dr. Jason Aldred, an expert in telemedicine is our guest blogger and will address this timely topic. Dr. Aldred is a Movement disorders specialist (MDS) who sees patients at his private practice Selkirk Neurology and at the clinical trials organization Inland Northwest Research, both based in Spokane, WA. He is on faculty at the University of Washington and Washington State University, and his practice sees patients from a wide geographic range, including eastern Washington, northern Idaho, and western Montana. His research and clinical care have involved many different telemedicine platforms over the last 10 years and telemedicine is often a part of the clinical care for PD in his practice. Here he shares his experiences with telemedicine and explains how it can benefit people with PD.
WHAT IS TELEMEDICINE?
Telemedicine is a general term that describes any type of electronic communication that provides healthcare without an in-person visit. Telemedicine has been used for decades, initially in areas with remote populations in need of medical care, using VCR-recorded exams that were then sent to a doctor who gave advice. Thankfully technology improved over time, allowing videos to be transferred electronically to doctors who gave recommendations more quickly. Over the last few years, technology improved enough to allow high-quality audio and video connection to create a medical visit that is much more like an in-person doctor's visit. Now cardiologists use remote stethoscopes, dermatologists use remote high-definition cameras, and neurologists do examinations remotely for strokes in ERs.
Getting started with telemedicine
After completing my Movement disorders fellowship, I worked with hospital systems that had established telemedicine networks but were not using these systems for neurologic care. This provided me the opportunity to develop telemedicine for neurology using an already-established multi-state network of telemedicine sites.  In Spokane, I went on to participate in Connect Parkinson, the largest-ever randomized controlled trial for telemedicine, comparing in-home PD visits with a Movement disorders specialist (MDS) versus routine care in a clinic. Later, I worked with other colleagues on the Movement Disorders Society Task Force on Telemedicine, performing telemedicine in Nigeria and other underserved areas.
Is telemedicine covered by insurance?
Before the COVID-19 pandemic, Medicare and other insurers did not cover telemedicine as a benefit. Telemedicine was available, but limited. According to the American Medical Association, before the COVID-19 pandemic, only 15% of healthcare providers had access to telemedicine at their practice.  In remote areas referred to as Health Provider Shortage Areas (HPSA), patients had to go to specially designated telemedicine clinics to have this care covered as a benefit. At these clinics, the exam was performed and then viewed remotely by a specialist.  Even many HPSA areas had limited options due to the high cost of investing in and running telemedicine programs.
As of March 17, 2020, due to the COVID-19 pandemic, the Centers for Medicare and Medicaid Services declared a temporary allowance for in-home telemedicine to be covered on par with an in-clinic visit.  Although it remains unknown, our hope is that telemedicine continues to be covered by insurance after the pandemic is over.
The good news is that technology is much easier to use than at any other time in the past. For many people with PD, regardless of age and familiarity with technology, signing on to a telemedicine visit is straightforward and only requires a few clicks.  One silver lining of this pandemic is that it accelerated our use of in-home telemedicine for medical care of PD and other conditions and encouraged doctors and patients who had never used telemedicine before to adopt it as a new tool to improve life for those with PD.
MAKING THE MOST OF YOUR TELEMEDICINE VISIT
Here are some tips to help new users get accustomed to telemedicine:
Telemedicine 101 Toolkit:
Learn about the "platform" used for your upcoming telemedicine visit

This is also called the "software" or "system". (Zoom is a common platform used for telemedicine)
Ask your doctor's office for a demonstration video (or find one online) to familiarize yourself with how it should work

Ask how you will "link" to the visit

This may involve clicking on a link in your email or text from your smartphone
Smartphone connections may work with either regular cell phone signal or WiFi
You may use your own computer, laptop, smartphone, or tablet or a family member, friend, or neighbor's device. We recommend smart phones because they are the most readily available and usually connect easily

Consider asking for a test appointment if you are worried you may not know how to connect at the time of your visit

This may reassure you that everything is ready or give you an opportunity to fix any minor issues before your visit

Connecting to the visit

When prompted on the screen, be sure to "Accept Video and Audio" connection for the visit

Tell your doctor during the visit "I agree to the use of telemedicine for this visit"

Providers are being asked to get verbal consent for the visits by many insurers

Be your own camera person
Tips to make the best visit:

Have your medications for PD on hand as you will likely need to refer to them
Prepare a list of questions, concerns and/or goals for the visit so you're sure not to forget anything
Sit with room light or daylight from windows shining on your face. Try to avoid windows and bright light behind you
Set up the phone/camera approximately 3 feet away from you at eye level.
Have the camera aimed straight at you

Rest the camera against a stack of books or edge of a counter or wall

Look at the preview picture of yourself to make sure that your head is at the top of the screen and waist is at the bottom of the screen. This allows your doctor to see your movements, tremor, and other features of the examination
Remember to speak loudly

Modern technology is very good at picking up voice at a distance but be sure to speak up if you have PD, which may cause low voice volume

Have a hallway cleared and either aim the camera in that direction or have someone else hold the camera to show your doctor how you walk up and down the hallway
At the end of the visit, ask about a follow-up visit via telemedicine
Tips and takeaways
Telemedicine refers to any type of electronic communications that provides healthcare without an in-person visit
There was a large increase in practices providing telemedicine during the COVID-19 pandemic
Don't be afraid of telemedicine! Your doctor's office can help you with a test visit and with getting you online to see your doctor
Prepare for the visit in advance. Have your medications handy, a list of questions or concerns for your doctor, figure out where you will rest your camera, and clear a hallway or walking path.