ABOUT APDA VIRGINIA
The Virginia Chapter of the American Parkinson Disease Association supports the national mission by educating and empowering those in our community challenged with Parkinson's by promoting hope and optimism through innovative services and programs and funding vital research. This dual mission of helping people live better today, while we also fight for a better life tomorrow, is unique.
What We Do
Meet Our Board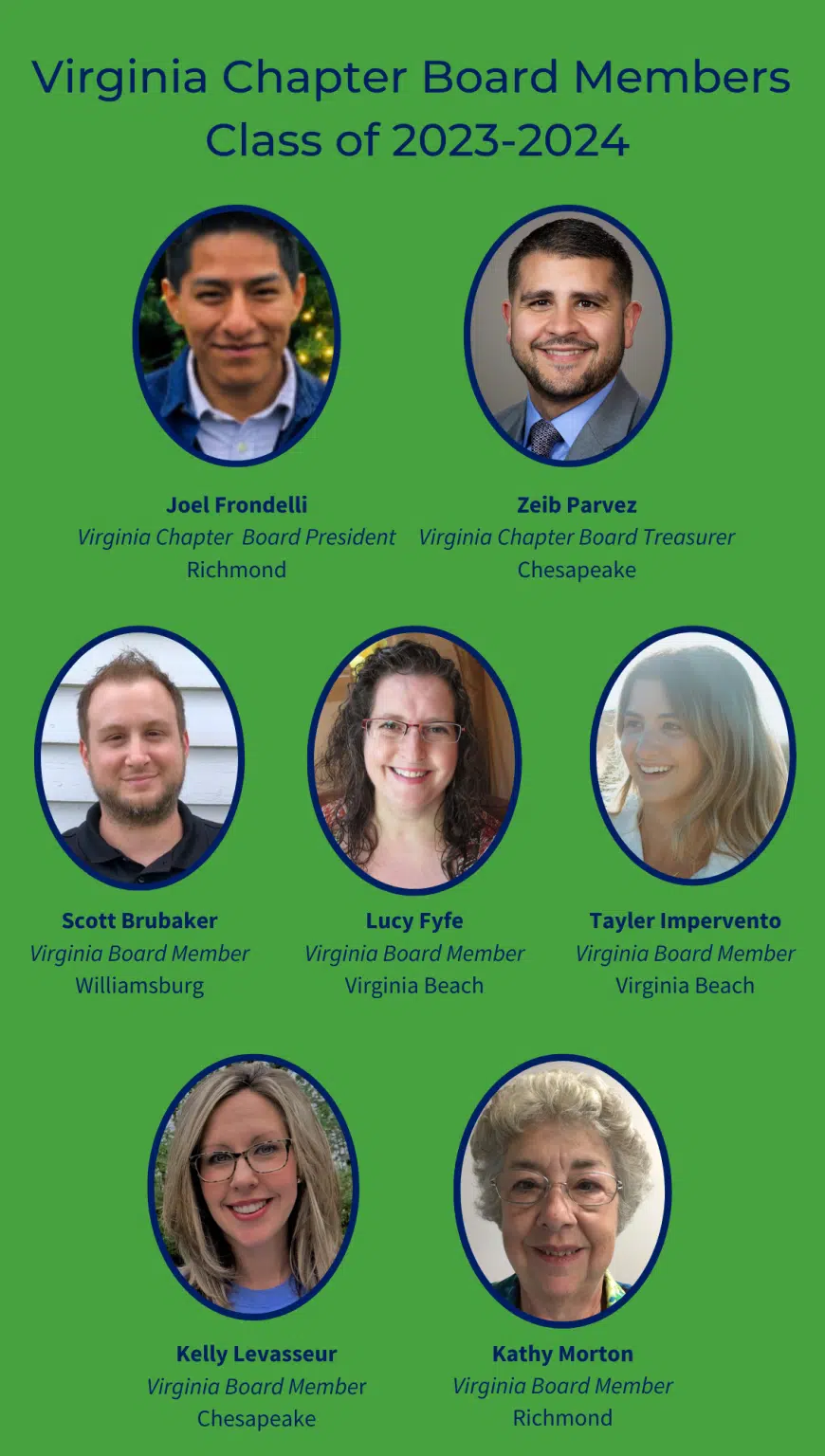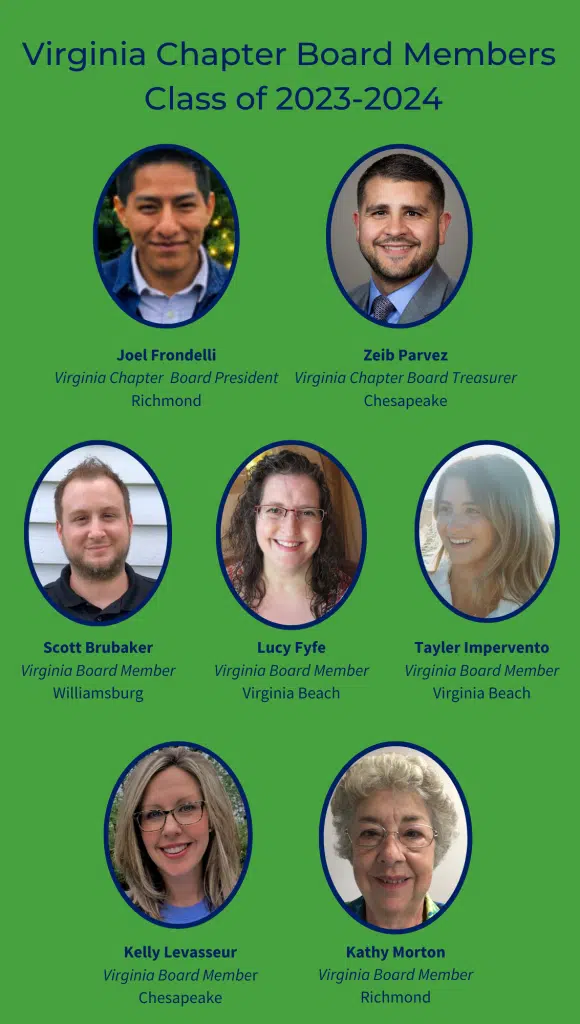 Join Our Board
The Chapter Board is comprised of volunteers with diverse backgrounds who meet monthly to direct the operation of the APDA Virginia Chapter. Board members are not paid for their services and are committed to the mission of helping find a cure through funding research, and to helping people in their day-to-day activities. Board members work extremely hard in planning and organizing information sessions, the Annual "Optimism Walk" and other educational and fundraising events.
APDA Virginia strives to provide service to the approximately 24,000+ people living with Parkinson's in the state, as well as their family members and care partners. The Chapter fulfills this mission by providing grants to organizations providing Parkinson's programming, supplying guidance and education to support groups across the state, and supporting educational programming.
Those interested in doing more can apply to become board or committee members by downloading and completing the application below:
Volunteers Welcome!
APDA Virginia is a small but mighty chapter that relies heavily on volunteers. We have a vast number of opportunities from one-time projects to ongoing needs, from patient programs, fundraising, and office work to specific expertise in areas of expertise. Your time and effort can improve the lives of those impacted by Parkinson's disease. Download our volunteer application below:
Download the Volunteer Application
In addition to the ongoing general volunteer needs, we also have the following specific needs:
Social Media – Can you help grow our presence on Facebook, Twitter, and Instagram? Post regularly attention-grabbing information that is relevant and useful to our audience.
Fundraising – Do you have experience fundraising? DIY events? Out-of-the-box thinking? Annual appeals?
Walk – Have you organized a fundraising walk? Can you motivate teams to raise funds? Seek new teams to join. Are you good with volunteers and logistics? Are you a strong, technically savvy writer that can help set up motivational and thank you email triggers in our peer-to-peer fundraising software (Donor Drive)? A special knack for procuring great auction items? An eye for detail and event logistics?
Grants – Do you have grant writing experience? Researched opportunities for funding? Had success in securing grants?
Data Entry – Have you managed large databases? Helped coordinate a transfer of information into a new system? An amazing eye for detail?
Patient Programs – Do you have past experience in organizing healthcare-related events? Have you created programs or led outreach efforts to raise awareness? Do you have knowledge of Parkinson's Disease?
E-Marketing – Are you a good writer? Do you have expertise using email marketing software like Constant Contact? Do you how to grab people's attention and inspire them to do something? Have you done e-newsletters?
Time is a precious commodity and any gift, no matter how small, is appreciated and highly valued. If you can provide assistance or desire more information, please complete our Volunteer Application. You will be contacted through your preferred contact method within two weeks.
Feel free to contact us with any questions, concerns, suggestions, etc.
757-495-3062
Mail to: PO Box 4162, Virginia Beach, VA 23454
Meet Our Chapter Staff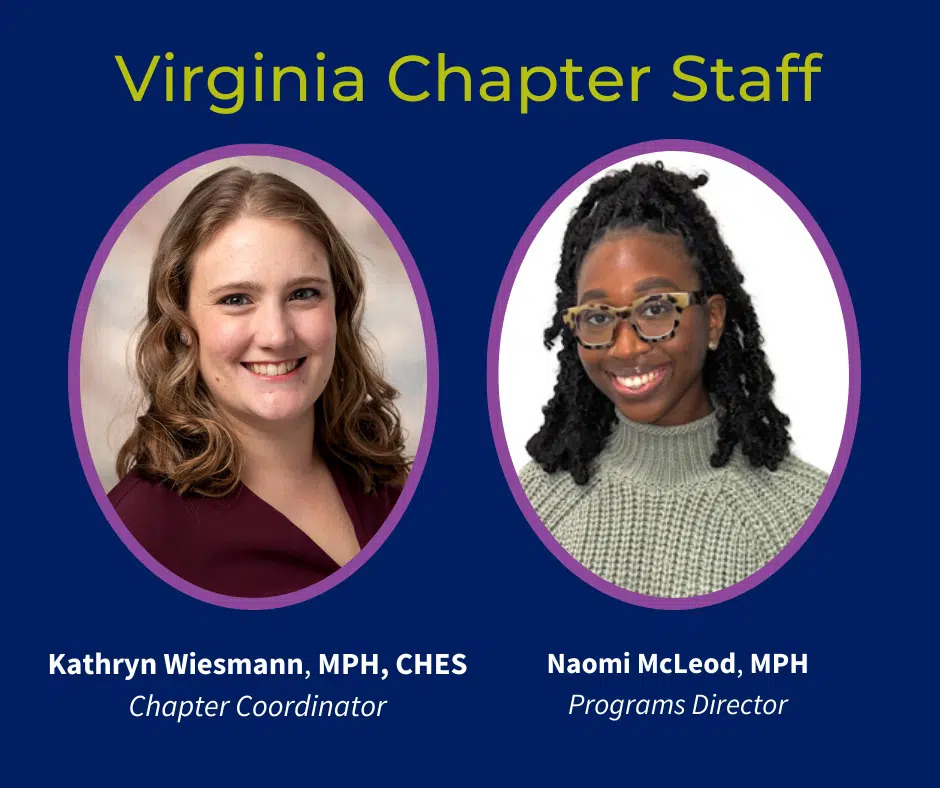 Kathryn Wiesmann, Chapter Coordinator
Phone: 757-495-3062; Email: kwiesmann@apdaparkinson.org

Naomi McLeod, Programs Director
Phone: 757-408-8921; Email: nmcleod@apdaparkinson.org
The best way to stay in touch with everything happening at the APDA Virginia Chapter is to join our email distribution list. Subscribe today to our weekly News You Can Use newsletter and other special announcements.
Donate to Our Chapter
Yes! I want to donate in support of the APDA Virginia Chapter and help people with Parkinson's disease live life to the fullest.