APDA Virtual Care Partner Support Group
Join us in a conversation about how to help a loved one live and manage Parkinson's Disease symptoms. The program is designed to help family members and care partners of people with Parkinson's Disease. This group is made possible with the partnership with the University of Miami Miller School of Medicine and American Parkinson Disease Association (APDA).
October 12th, 2023
December 14th, 2023
5:00PM-6:00PM EST
https://apdaparkinson.zoom.us/j/82331421134
Acompáñenos en una conversación sobre cómo ayudar a un ser querido a vivir y a manejar los síntomas de la enfermedad de Parkinson para tener la mejor calidad de vida posible. El programa está diseñado para ayudar a los familiares y cuidadores de personas con la enfermedad de Parkinson. Este grupo es una colaboración entre la Universidad de Miami Miller School of Medicine y la Asociación Americana de Enfermedad de Parkinson (APDA).
Septiembre 14, 2023
Noviembre 9, 2023
5:00PM-6:00PM (hora del este)
https://apdaparkinson.zoom.us/j/82331421134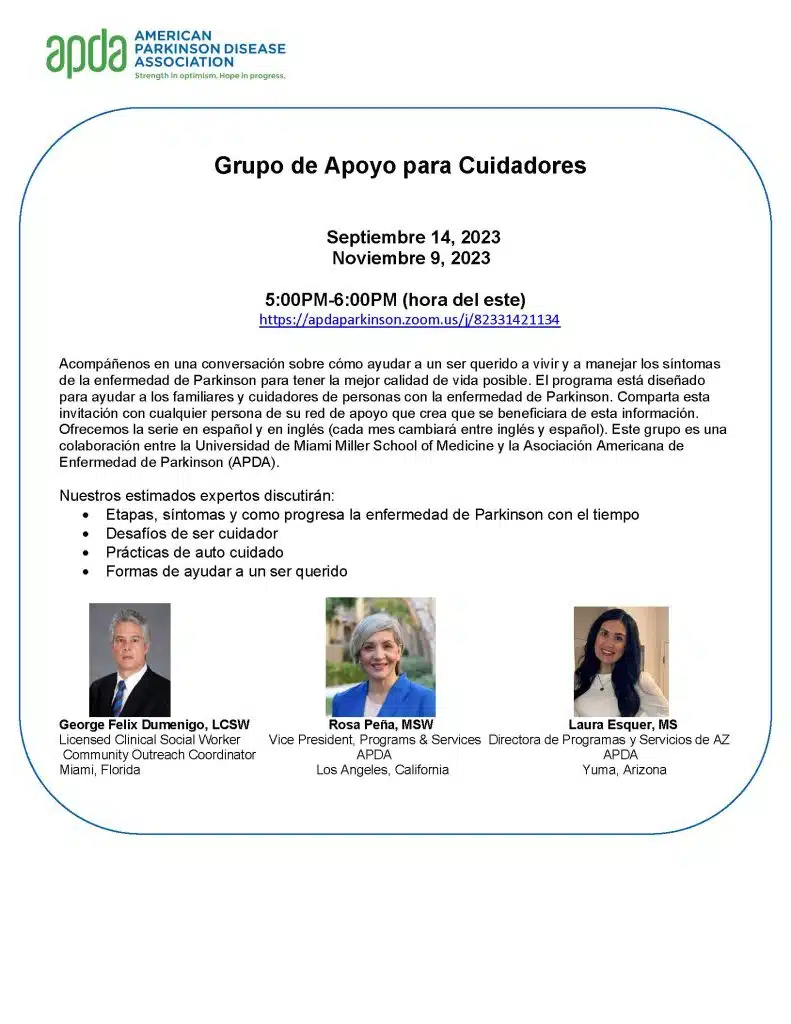 Care Partner Support Groups by County
Support groups are at no cost to you and are open to people taking care of a loved one diagnosed with Parkinson's disease. Some groups are for general caregivers and may not be Parkinson's specific in nature. It is suggested you reach out to the contact before attending a group.
Okeechobee
APDA Florida and Chapters Health have partnered to host in person Care Partner Support Groups. Chapters Health Counseling Center – 317 SE 3rd Ave, Okeechobee FL. on the 1st and 3rd Thursday of each month (call for start time). Marie (325) 227-5085
Palm Beach
Caregiver & Family Support Group: 11450 Hagen Ranch Rd, Boynton Beach, FL 33437. Each 3rd Thursday of the month. Please RSVP to 561-424-3294.
---
If you are looking for more care partner resources in the Florida area please click here.