APDA-FUNDED PARKINSON'S RESEARCH SUCCESSES: 2022 UPDATE
Since 1961, APDA has been a funding partner in many major scientific breakthroughs and has awarded nearly $55 million in Parkinson's disease (PD) research grants to date.
APDA funds individual research grants and fellowships to scientists performing innovative PD research. Grants are awarded through a competitive application process and reviewed by APDA's Scientific Advisory Board (SAB). The SAB is composed of scientists with a wide array of backgrounds and expertise in all areas relevant to PD research.
Today, we will introduce you to three of our researchers and discuss their recently-published findings that emerged from their APDA-funded projects. You can also read about additional past researchers and their continued success in two previous blog posts:
Dr. Sunil Kumar: Preventing the Clumps of Alpha-synuclein
Dr. Sunil Kumar is an Assistant Professor in the Department of Chemistry and Biochemistry and the Knoebel Institute for Healthy Aging at The University of Denver, in Denver, Colorado. He received a Research Grant from APDA in September 2021 for a project entitled "Identification of novel targets associated with α-synuclein aggregation".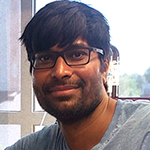 One of the main characteristics of the pathology of PD, is the accumulation of an aggregated protein in the brain called alpha-synuclein into structures termed Lewy bodies. One of the fundamental questions underlying why PD occurs is: How does alpha-synuclein aggregate into these toxic clumps? Modulation of this accumulation process by inhibiting the binding of one molecule of alpha-synuclein to its neighbor, could be a promising therapeutic intervention for PD. To figure that out, Dr. Kumar designed experiments to identify which sections of alpha-synuclein are essential for the aggregation process.
Recently, he published a paper which accomplished what he set out to do. Dr. Kumar identified four sections of alpha-synuclein that are critical for the clumping process. His lab is now working to identify molecules that can bind to these sections of alpha-synuclein and interfere in its aggregation. Such molecules could serve as therapies for PD, slowing down or potentially halting the pathological processes that lead to PD.
Dr. Brian Daniels: Investigating the Role of Inflammation in Parkinson's Disease
Dr. Brian Daniels is an Assistant Professor of Cell Biology and Neuroscience at Rutgers University in New Brunswick, NJ. He received a Research Grant from APDA in September 2019 to study the role of proteins called RIPKs in driving inflammation in PD.
When alpha-synuclein clumps develop in the brain, they are accompanied by activation of an immune response or inflammation. The inflammatory response consists of a cascade of cellular events that produces a hostile environment in the body, designed to allow the body to defend itself against foreign substances, such as infections or toxins. However, at times the inflammatory response causes damage to healthy tissue and contributes to disease. Astrocytes, a cell type in the brain with a variety of functions, can be a part of this inflammatory response. Understanding the steps that lead to astrocyte activation in PD are therefore crucial to figuring out how to stop the damaging inflammation.
The Receptor Interacting Protein Kinases (RIPKs) are signaling molecules with important functions in promoting inflammation. Dr. Daniels recently published his work establishing that RIPKs play a key role in causing astrocyte activation and promoting the inflammation triggered by abnormal alpha-synuclein clumps present in the brains of people with PD. RIPK inhibitors are already in clinical trials for other neurodegenerative and inflammatory conditions. Stay tuned for further developments on testing this treatment approach for PD!
You can hear Dr. Daniels and other APDA-funded researchers talk about their work in a virtual broadcast.
Dr. Chantale Branson: Understanding Parkinson's Disease in the African American Community
Dr. Chantale Branson is an Assistant Professor of Neurology in the Department of Internal Medicine at Morehouse School of Medicine in Atlanta, Georgia. She received the first-ever APDA Diversity in Parkinson's Disease Research Grant in September 2020 to study the demographics of PD in the African American community. Previous studies have shown disparities in the diagnosis and treatment of PD, with people of African descent in the US demonstrating delayed diagnosis, more severe symptoms at the time of diagnosis, inadequate treatment, and worse clinical outcomes compared to the general population.
While the impact of disparities in PD is defined, the reasons behind these differences are not well understood. At the same time, some past studies suggest that PD is less common among people of African descent than the general population, although it remains unclear if this is only due to decreased rates of diagnosis.
Morehouse School of Medicine focuses on providing care to medically underserved populations, particularly African Americans at Morehouse Healthcare and Grady Memorial Hospital, a large safety-net hospital in Atlanta, Georgia. Dr. Branson sought to study the factors that affected the diagnosis of PD in this patient population.
In April 2022, she presented her work at the American Academy of Neurology Annual Meeting in Seattle, Washington. Dr. Branson and her team demonstrated a significant association among low-income regions within the metropolitan area of Atlanta and the diagnosis of PD. As the percentage of African Americans increased within an area, there was increased risk of PD. Interestingly, these results do not support the historical findings that PD is less common among those of African heritage. The team also identified significant spatial clusters of PD within metropolitan areas as compared to non-metropolitan regions, which could suggest an environmental factor that increases the risk of PD, such as urban pollution. However, other factors such as lack of accessibility to nutritious and affordable food, must also be considered. Dr. Branson will work to identify the factors that contribute to an increased risk of PD among the African American community in Metropolitan Atlanta.
You can hear Dr. Branson talk about PD in the African American community here.
Tips & Takeaways
Drs. Sunil Kumar, Brian Daniels, and Chantale Branson recently published findings that emerged from their APDA-funded projects.
APDA can fund these researchers because of the generous donations we receive from dedicated people like you. If you would like to support critical work like this, please consider donating of any size today.
To learn more about APDA's research funding, please visit the What We Fund section of our website.