March is National Social Work Month

APDA honors social workers and explains the vital role they play.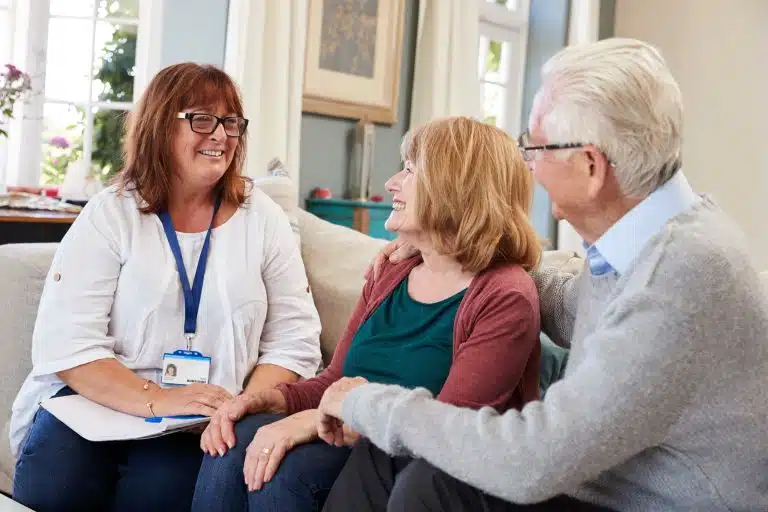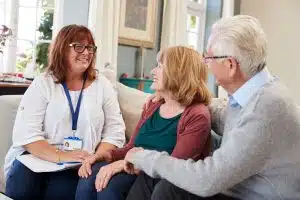 Social workers can play a key role in helping people with Parkinson's disease (PD) and their care partners navigate every stage of the PD journey. But many people do not know how a social worker can help or how to access one. Rosa Peña, APDA's Vice President of Programs & Services, who is a social worker herself, explains it well: "At times, life with Parkinson's disease can be complicated and confusing; whether you're newly-diagnosed and feeling frightened, or if you're a care partner who is feeling overwhelmed. Knowing where to turn, understanding what resources are available to you, and having someone who can help you navigate this challenging journey can make a tremendous difference. Social workers can do that for you. We are here to help you live your best life, despite a PD diagnosis."
Advice From Parkinson's Social Workers
We asked three PD social workers in our APDA network to explain their roles and help you understand how a social worker may be able to help.
Erika Adelman
Erika is a Licensed Clinical Social Worker and APDA Information & Referral Coordinator at the Parkinson's and Movement Disorders Center of New York Presbyterian Brooklyn Methodist Hospital in Brooklyn, NY. She runs a PD exercise and wellness program, facilitates support groups and hosts educational seminars for people living with PD and their care partners. She also trains other social workers to work with the Parkinson's community. She has recently opened a private practice in which she provides counseling for people with PD in a virtual setting.
George Dumenigo
George is a Licensed Clinical Social Worker and APDA Information & Referral Coordinator at the University of Miami Miller School of Medicine Parkinson's Disease and Movement Disorders Center in Miami, FL. He was born in Cuba and raised in Northern New Jersey. George realizes the importance of partnering with other community PD programs and works together with them to provide the best in PD and other movement disorders education and support. Fluent in Spanish, George also helps facilitate a Spanish-language support groups for people with PD as well as care partners.
Sheila Moore
Sheila is a Licensed Clinical Social Worker and APDA Information and Referral Coordinator at the Pacific Movement Disorders Center of the Pacific Neuroscience Institute in Santa Monica, CA. She works as part of the multidisciplinary team providing psychosocial services in a patient-centered care environment and provides support and education to patients and their families. Sheila offers counseling, assessment, and referrals to community-based programs and connects people with PD and their care partners with community resources.
We asked Erika, George, and Sheila questions about their work.
Q: What are the key functions of a social worker in a Parkinson's disease (PD) clinic?
Erika: The social worker's primary responsibility is to address the psychosocial needs of the person living with PD and their loved ones.
A social worker will do whatever they can to help a person with Parkinson's (PWP):
Maintain their independence
Improve their quality of life
Decrease their stress and any stress that's experienced by their loved ones.
Depending on how a PD clinic is set up, the social worker might be one of the first people that a PWP and their family members meet during their visit.
The social worker in a Parkinson's clinic might be responsible for:
Conducting assessments
Obtaining authorizations
Setting up any necessary testing
Rehab and home health aide services
Advocating for a PWPs needs
Composing letters of medical necessity
Providing psychoeducation about PD and the various programs and resources that might be available to an individual and their loved ones
Establishing a rapport with the PWP and their loved ones so that they know that they have a team supporting them throughout their Parkinson's journey
The social worker might also provide supportive counseling, family counseling, and crisis intervention services based on an individual's situation and needs. In our clinic, the only things that I as a social worker can't do is make appointments and write or refill any prescriptions. Otherwise, everything else is handled by me.
After that first visit, the social worker becomes the point person for a PWP and their family members. They can help a PWP and their loved ones navigate the social service and healthcare systems to address all of their psychological, psychosocial, and physical needs.
Q: Can you describe your typical day as a PD Social Worker?
Erika: One of the first lessons that I teach my social work students is to expect the unexpected while working in a Parkinson's clinic because no two days are ever the same, which makes sense because no two people with Parkinson's are ever the same either. In my role, I am responsible for coordinating the care for all of the Parkinson's patients seen within our center. I also run our hospital's Parkinson's Disease Exercise and Wellness Program, facilitate several support groups, and coordinate several educational events throughout the year. I oversee the training program for our Masters of Social Work (MSW) students, and I am also the APDA Information & Referral Center coordinator, providing education, resources, and support to PWP and care partners living in Brooklyn and beyond. My days are full and split between meeting with patients, doing administrative work, coordinating care, advocating, organizing events, handling our hotline calls, teaching my students, attending meetings, and whatever else comes up in between.
Q: What is the most common question people ask when they first reach out to you? What do they need help with most?
George: The number one question I get on a weekly basis is: "How can I get help at home?" Often during follow-up visits, our neurologists will hear that a care partner cannot properly care for their spouse, parent, or friend because they are exhausted or physically can no longer help adequately. I regularly get these referrals or calls for help. The reality for most, unless you have a long-term care insurance plan that covers a home health aide, there are few resources in the community. It breaks my heart every time to hear the struggles care partners are going through and that they have little or no support from immediate family. A common theme is the patient and care partner don't want to burden others or that their children are too busy with work or their own children to pitch in. These cases often make me stop what I'm doing and dedicate time to listening, as care partners often need to vent and share their story. As a social worker I can explore available resources to see if they qualify and if not, I often have to bring up the difficult subject of placement in a long-term care facility. Active care partner support groups are also a good way of learning about resources and sharing.
Sheila: The most common question I get is: "How can you help me?" Many times, people call in with a sense that they need help but are not quite sure what resources are available or even what questions to ask. I spend time getting to know the people who reach out to me, discuss their situation, and together we sort through what they might need, what the available resources are, and then what might be next. When sitting with people or care partners living with PD, the most often-asked questions I get have to do with additional care – what that might look like, what are the costs, and when will the right time be to initiate that kind of support or help. I think it is important for the community to know that as a social worker I am here to help formulate questions, to help with planning for both the short and long term, and to listen to what is going on. No need to come with well-planned/defined questions.
Erika: It depends on where they are in their PD journey. People who are newly diagnosed typically reach out to get more information about Parkinson's so that they can better understand what this diagnosis entails. They might also share their initial feelings about receiving a diagnosis, or bring up any questions or concerns they have. The newly diagnosed often are trying to establish a support system and need help understanding what resources and supports are available to them now, and throughout their PD journey. Other questions that might come up are typically related to coping, finances, transportation, employment, future planning, exercise, provider recommendations, preventative care measures, and sharing one's diagnosis.
As the disease progresses and symptoms increase, a PWP and their family's needs tend to increase as well. Individuals who are in the middle stages of their disease might have questions about driving, safety concerns, benefits, entitlements, retirement, insurance, housing, and long-term care planning needs. People who reach out during this stage of this disease typically are seeking more resources and referrals for support that exist in the community so that they can better prepare for any changes that might occur, take proactive measures so things don't become increasingly difficult, or be put in a position where they can reach a dead end.
For PWP and care partners whose loved ones are in the advanced stages of PD, many of the questions that I get pertain to the management of symptoms, medications, behaviors, comfort, coping, and resources that are available to support the care partners and to advocate for what's needed, or questions about how to respect an individual's self-determination, and wishes while preserving their dignity, despite their limitations.
Q: What part of your job do you find most rewarding?
Sheila: There are many parts of my work here at the Pacific Movement Disorders Center that are rewarding. I have the great fortune to facilitate groups for those living with PD and for care partners. I am consistently moved by the mutual support that is offered among the members, the relief in being understood by peers, and the connections that are made. It is very gratifying to see members join in – initially they may seem pensive and overwhelmed, but when connections are formed, there is a collective resilience and mutual caring. The transformation is remarkable. There is often a balance of serious discussion, sincere interest in each other, and smiles and laughter. It is a highlight of my week.
Erika: The social service and healthcare systems can be extremely challenging to navigate at times. Knowing that one simple phone call, referral sent, letter written, resource given, or conversation that I handled could make even the slightest difference for someone impacted by PD means everything to me.
Also, when I first started working at the hospital, I quickly learned how valuable the role of a social worker on a multi-disciplinary care team could be. Shortly thereafter, I developed a training program for Masters of Social Work (MSW) students so that I could teach future generations of social workers how to work with the PD community — I have trained 27 students to date! I can't change many aspects of our social service and healthcare systems, but I can certainly do my best to give back to the community and my profession by training competent social workers from diverse backgrounds who will hopefully go on to work with, make a difference, and meet the needs of the Parkinson's community now, and in the future.
Q: Are there any stories that stand out to you where you helped someone with a particularly interesting or complicated situation?
Erika: One of the first calls that I ever received on our APDA Information & Referral Center hotline was from a gentleman who informed me that his father was a photographer who developed tremors and because of that, became very depressed as he thought that he would never be able to do the one thing that he enjoyed, which was taking pictures. The son asked me if I knew of any cameras for someone who had tremors. I asked some of my colleagues who weren't aware of anything available, so I did my research and learned that there are cameras that have been designed for those with tremor. There are also many other assistive technologies that help people overcome their limitations and perform daily tasks and activities that they thought that they couldn't do anymore. The news that I delivered, that there was a camera he could try, changed this man's life — so before you give up on an activity, talk with your health care team including your social worker to see if you can possibly still do it, even if it's in a slightly different way.
Sheila: I think the most impactful story I can share is about a couple I am currently working with. They came to me just after the husband of the couple received the diagnosis of PD. The most remarkable part of their journey is that they have completely embraced the social and professional services available to them. They attend support groups separately to address their unique needs which they have found helpful. In addition, they have really embraced the engagement programming that is offered in the community. The spouse with PD attends boxing and has a personal assistant which allows for independence in his day and some separate time from his wife. His care partner attends a support group and is diligent about keeping up with friends and doing things to nourish her own needs separate from her spouse. Together they attend Ping Pong for Good, Dancing with PD, Music Mends Minds – all resources available locally here in Los Angeles. Through their separate and joint efforts, they have tapped into their individual resilience, they have created a new network of friends through the PD community, and they have things to look forward to, both separately and together. They are an inspiration.
Q: At what point should someone with PD seek the assistance of a social worker? Or asked another way – How do you know you need the help of a social worker?
Erika: I would recommend getting connected with a social worker sooner rather than later because a social worker can help save you and your loved ones a lot of time, energy, work, and stress. A social worker can provide an additional layer of support that a PWP and their family members might have never even known they needed and that could make all the difference in how you and your loved ones navigate this journey. There is absolutely no down-side to including a social worker on your care team because if the social worker cannot address a need in that moment, I can almost guarantee that they will be the one who finds you the person who can.
Sheila: I think that when someone starts thinking about the challenges they are facing, and they are starting to feel overwhelmed – it's time to reach out. I would like to emphasize that most social workers are available to help formulate the questions about what might be needed. It's really not necessary to come with clear ideas about what is needed or some kind of a plan. We are here to help with all of that. I often get calls from people who say my doctor told me to call but I really don't know what I need. I am so happy that they reached out. Reaching out is 75% of the battle for most people.
Q: Is there anything else that you would like to share with our community about your role as a PD social worker?
George: Experience counts. PD brings with it a particular set of needs, and with several years of experience, you begin to know the important questions asked. For example, what can I expect, what can I do to help myself, what do I need to plan for? Training programs when I first started were tremendously helpful, though the mentorship of other social workers was hugely important too. It has taken me a long time to reach a certain level of confidence. This confidence makes the PWPs I help more at ease and provides hope that someone will be able to help them better navigate future difficulties.
Erika: Social workers wear many hats. For the past eight years, I have provided case management and crisis intervention services, done advocacy work, run support groups, and generally addressed the psychosocial needs of the Parkinson's community.
What I've learned over the years is that the need for mental health services, especially for those living with PD and their care partners, has become greater than ever. The medical community has endorsed the notion that there's a huge mind-body connection when it comes to PD, and we know that when the mind gives up, so does the body. My future goals are to research the efficacy of different therapeutic modalities for the mental health management of the non-motor symptoms of PD and establish best practices for mental health clinicians who provide counseling services to the Parkinson's community.
Sheila: As a PD social worker, I see myself as part of a team that is here to support and foster living well, together with the Movement Disorders specialists, the PT, our Nurse Practitioner, and others. This road can be overwhelming for any of us, especially for the person living PD and their care partner if they think that they are on their own. Our collective goal is to make sure those with PD and their care partners live well and have the support they are looking for. I am so grateful to be part of such a special community.
Q: How does someone find a social worker?
Erika: If you or your loved one sees a Movement Disorders Specialist in an academic medical center, a social workers can typically be found within the clinic. If your neurologist doesn't have a social worker on staff, I would highly recommend that you reach out to your local Department of Aging or Department of Senior Services. There are also case management agencies and geriatric care management agencies that have social workers on staff. You can also ask other PWPs for recommendations.
Social workers can play a pivotal role in the PD journey
Erika, George, and Sheila are just three of the many wonderful social workers who are dedicated to making life easier for people with PD and their loved ones. We're thankful for the perspectives they've shared here, and more importantly for their commitment to our PD community.
Tips and Takeaways:
Social workers can be a vital part of a PD health care team.
Social workers can provide counseling, assessment, and referrals. They often organize and run support groups, educational events, and wellness classes. They can help with planning for the future.
Ask your neurologist for a referral to a social worker.
You do not need to have a list of pre-formed questions – just be ready to share your story and the social worker will help you understand the important things you need to know.