As all of you know very well, Parkinson's disease (PD) is a complex disorder that affects so many parts of a person's life. In order for physicians to fully understand the impact the disease has on people with PD, it is not enough to learn the science and medicine of the condition. But how is it possible to teach a physician what it feels like to have PD?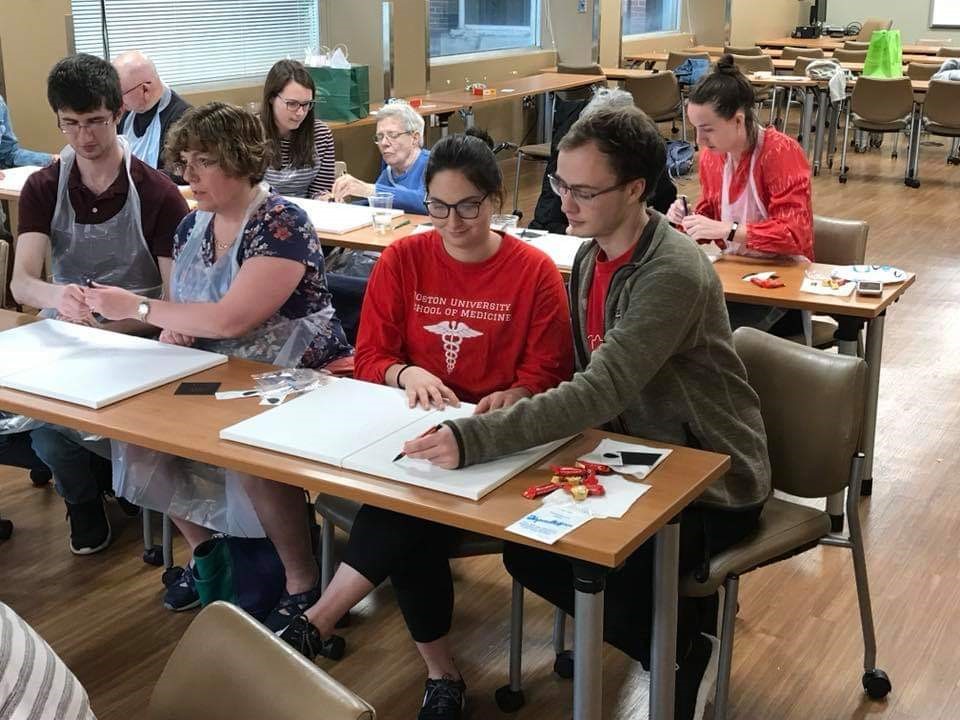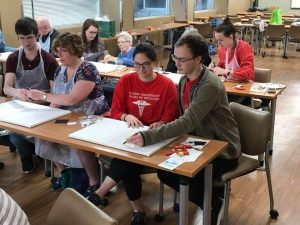 One program that attempts to do just that, was pioneered at University of Louisville School of Medicine in Louisville, KY and adapted at Boston University (BU) School of Medicine. Parkinson's Partners is a program in which first year medical students are paired with people with PD for a semester full of activities.
The goal of the program is to expose physicians-in-training to the "person behind the disease", while engaging in activities that are therapeutic for people with PD. APDA has a long-standing and strong partnership with BU and we're proud of their commitment to the PD community.
About Parkinson's Partners
At BU, student leaders guided by the BU Movement Disorders faculty, recruit first year students who have not yet had clinical experience, and pair them up with PD patients of the BU Movement Disorders clinic. The student leaders plan and implement regular activities throughout the year that allow the student and the person with PD to form a mutually beneficial relationship. Since its inception in 2017, the students and faculty have also collected data and information on the program and on lessons learned.
BU School of Medicine has many close ties with APDA. One of APDA's Information and Referral Centers is housed at BU, which worked in tandem with APDA's Massachusetts Chapter. BU also houses an APDA Center for Advanced Research.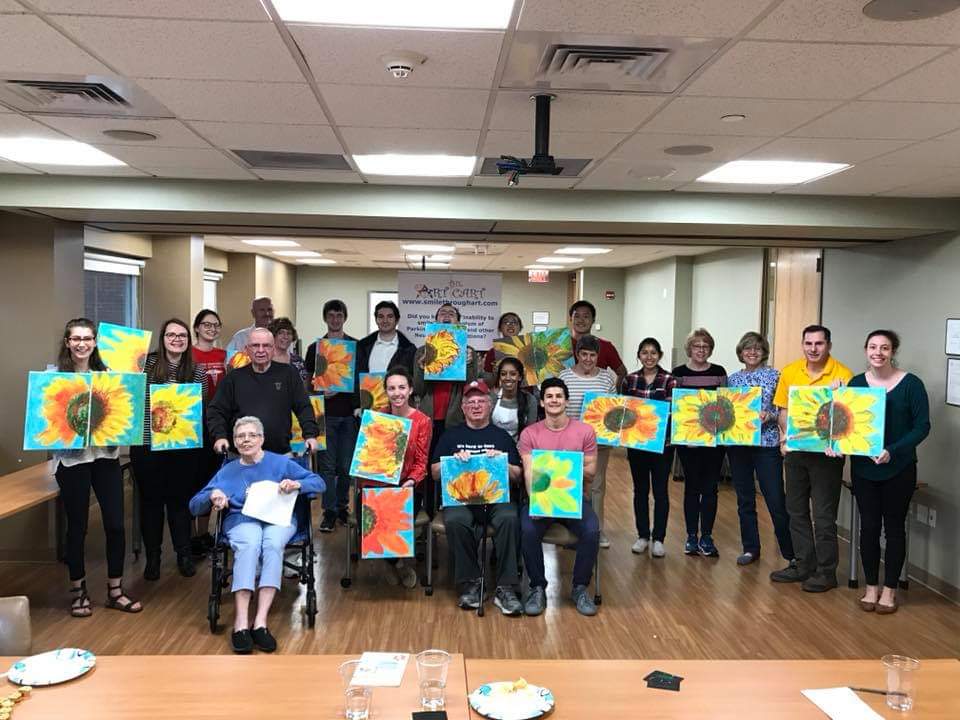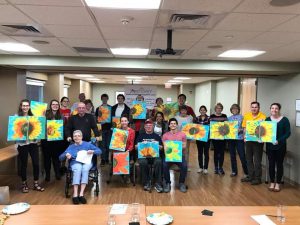 The Medical Director of BU's Parkinsons disease and Movement Disorders center is Dr. Marie-Helene Saint-Hilaire, who is a long-standing member of APDA's Scientific Advisory Board. BU also houses APDA's National Rehabilitation Resource Center. APDA is therefore particularly proud of the Parkinson's Partners BU initiative.
I spoke with Taylor Francoeur and Max Rosenthaler, two current 4th year medical students at BU who started the program in 2017, as well as Dr. Katelyn Bird, Assistant Professor of Neurology and Movement Disorders physician at BU who is the faculty advisor for the program. They shared their thoughts about the inception of the program and its value to the students of BU and to people with PD. Note: Some answers have been combined and edited for clarity.
How did you come up with the idea for Parkinson's Partners?
Taylor and Max: We came up with this idea with help of Dr. Saint-Hilaire, one of the Movement Disorders faculty members at Boston University Medical Center. She asked if any students would be interested in developing a student partnership program for PD patients. She had heard of a program that was started at the University of Louisville and knew of the benefits it might provide for the PD population. We worked with her and Dr. Stephanie Bissonnette (who was a Movement Disorders fellow at the time and is now a faculty member) very closely to figure out the details of how to organize the program. Since the beginning, there has been a lot of learning and adapting, as we figured out what worked best for the patients and students involved.
How did you recruit for students for the program?
Taylor and Max: We did initial recruitment with social media (we have a class Facebook page) and through email to invite students to an informational lunch to learn more about the program. At that lunch we discussed the mission of the group and exactly what students could expect if they chose to participate. One of the Movement Disorders faculty talked at the recruitment lunch as well. We had a lot of interest right away and that interest has been sustained since.
How are people with PD recruited?
Taylor and Max: Flyers in the Movement Disorders clinic advertise the program to people with PD. The Movement Disorders faculty also helps to identify particular patients who might have an interest in participating.
How is the program structured?
Dr. Bird: Before COVID, the program was structured around 3-4 in-person sessions per semester. Each session was about two hours long and took place on a Saturday or Sunday. Each session had multiple components, usually consisting of an arts and crafts segment, an educational piece, and a physical activity, with time for breaks, snacks and chit-chat. The physical activity was geared to PD patients such as boxing or salsa dancing. The educational session typically involved guest lecturers – from speech therapists to PD physicians to PD researchers. A Movement Disorder specialist was present at the sessions to provide medical supervision.
What adaptations to the program have been necessary during the COVID-19 pandemic?
Dr. Bird: This year's leaders are very enthusiastic. They brainstormed about the activities and then mailed care packages containing all the supplies for each activity to everyone's house so that the activities could be done over Zoom. The activities this year include cookie decorating, and each person received a cookie mix and decorating supplies. Another care package included a paint-by-numbers kit. The student leaders this year applied for grant money so that they could mail these packages. I am very proud of their initiative.
I want to add that the program is entirely student-run. The students organize all the activities and invite the guest speakers. Cathi Thomas, RN, MS, who is the APDA Information and Referral Center Coordinator at BU, has a ton of experience planning programming for people with PD and is on-hand to guide and help as needed.
What has been the feedback about the program?
Dr. Bird: The program is extremely beneficial for the students. The students who act as partners are in their first year. Some have never met any patients, let alone a person with PD. The program introduces the students to the human behind the textbook and puts a face to the disease.
The students and people with PD really do form a partnership that is sustained beyond the prescribed sessions. For example, some of the students have gone to medical appointments with their partners. They have really been able to see how the disease affects their day to day life.
One lovely activity that sticks with me was a session about memorabilia. The people with PD and the students were asked to bring in an item of importance to them. Some of the people with PD brought in exceptional items that reflected their interests and passions. One person with PD created model pianos and he brought in one of his models. This was a great reminder that people with PD are not their disease. PD is one part of their lives. But they are so much more than that.
The first student group that went through the program is now graduating. No matter what specialty the students choose to pursue as they continue their medical career, this experience will inform their outlook. The students will not forget their PD partners and will always view PD through a special lens because of this experience. When they encounter people with PD as an inpatient for example, they will know how to take care of them. They will be more aware of issues such as medication timing and fall risk. The feedback from both the medical students and the patients shows us we're making a difference, and we're excited to continue this program.
Taylor and Max: Many student volunteers told us that this program allowed them to interact with patients on a more personal level than anything they experienced during their clinical rotations. They were able to learn about PD in a way that was not possible from books. One student reflected that this program was "invaluable". I had a patient partner myself during the first semester of the program and remember my partner sharing how happy she was to participate. My partner gave me a book on deep brain stimulation (DBS) because she was so excited to be able to share her knowledge and experience with a future physician and hoped this would help me in my future practice.
Another student volunteer commented that he found the experience incredibly rewarding while also being able to personally witness all of the challenges that his partner had due to his medical condition.
What data have you been able to collect about the program?
Dr. Bird: We have looked at student knowledge of PD that is enhanced by this program. We also have looked at how the program affects burnout scores of medical students and how it affects quality of life surveys of patients with PD. Students are working to publish this data which is another important aspect of the program. The students and faculty have also drafted a paper about best practices in forming a student-led partnership group and we hope to publish that in the medical literature.
Tips and Takeaways
Medical students at BU School of Medicine have designed a Parkinson's Partners program under the supervision of the faculty of the Movement Disorders center.
This program pairs medical students and people with PD for various activities throughout the year so medical students can gain an invaluable understanding of the lived experience of PD, and the people with PD benefit from the interaction, the bonding and the activities they participate in together.
APDA has worked closely with BU for decades and is proud of the many innovative ways they support the PD community.