People with Parkinson's disease (PD) and their care partners are always searching for ways to make their lives easier, healthier and fuller. Using the principles of palliative care to enhance PD-specific care is one way to do that.
Palliative care is a medical approach for those with complex illnesses, in which the focus is on maximizing quality of life. This approach can be applied at any stage of the disease, even at the time of diagnosis. Many people with PD have experienced this type of approach from their physicians, often to a limited degree, when a treatment or therapy is added to improve quality of life.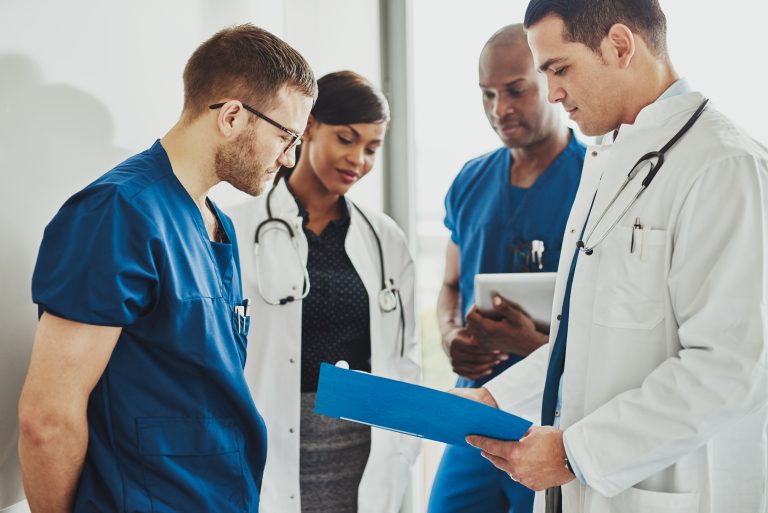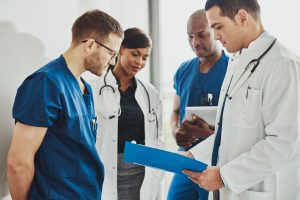 However, these small steps are often not enough and a change in the practice of PD medicine is slowly underway, with the goal of providing comprehensive and consistent palliative care throughout the disease course. In order to provide this level of care, some formal palliative care programs for PD have been developed, but more such programs are needed across the country.
Palliative care for PD typically requires a multi-disciplinary approach in which movement disorders physicians, nurses, social workers, physical therapists, occupational therapists and speech therapists work together to optimize quality of life.
Because palliative care is a term that people with PD and their care partners may have heard of, but may not fully understand, we looked to further clarify this concept by speaking to an expert on palliative care for PD, Joanne Ruelas, LMSW. Ms. Ruelas works at one of the premier palliative care programs for PD – the Muhammad Ali Parkinson Center Legacy Care Program in Phoenix, AZ.
Q: The Lonnie and Muhammad Ali Legacy Care Program was designed to provide compassionate, patient-centered palliative care to people living with Parkinson's disease and related disorders. What is palliative care and why is it important for people with Parkinson's disease?
A: Palliative care is certainly a term that is used a lot, but it is one that people tend to misunderstand. The majority of the time, individuals relate it to hospice, or end-of-life care. This has led to the misconception that if people with PD agree to palliative care, they are "signing their lives away". But in reality, palliative care is a type of program that provides support and education for a person who has been diagnosed with a progressive complex disease, like PD, with a focus on maximizing quality of life. It is very helpful for someone diagnosed with PD to be involved in a palliative care program, which can provide additional support and regular "check-ins" as the condition changes and progresses. Well thought-out palliative care programs like the Legacy Care Program also aim to build stronger relationships between the patient, their family, and the clinical care team.
For example, palliative care might focus on relief of pain associated with PD, which typically requires a multidisciplinary approach and might include physical therapy, massage, and/or medication. Palliative care might focus on relief of care partner burden and may include consultation with a social worker and provision of resources and respite options. In general, palliative care aims to address the challenges that impede quality of life, utilizing all the available specialists to assist.
Q: What typically prompts a person treated at your Parkinson's Center to be referred to the palliative care program?
The main criterion is that the person with PD meets the Medicare definition of homebound status (defined as "needing the help of another person or medical equipment such as a walker or wheelchair to leave your home, or your doctor believes that your health or illness could get worse if you leave your home, and it is difficult to leave your home and you typically cannot do so"). We also consider the distance they live from the Muhammad Ali Parkinson Center – the further away a patient lives from our center, the more likely they need additional help. Patients that have limited support from family members or need a multi-disciplinary team approach are also candidates for referral.
Q: Can you give some examples of how a palliative care program might help a person with Parkinson's?
A: Patients who attend our program's Multi-Disciplinary Clinic (MDC) are able to address multiple needs by seeing all of their specialists and therapists in one day. For example – a patient may see their neurologist, social worker, and even their physical, occupational and speech therapists in back-to-back visits that minimizes travel and maximizes communication between the specialists. Pre-pandemic, another great benefit of this program was that we were able to provide home visits to address the medical and social needs of a patient and their family. Now, we are using technology and helping patients and families with telemedicine visits that utilize software, such as Zoom.
Q: Can you describe a typical initial visit to the Legacy Care Program?
A: Typically, a patient is referred to the Muhammad Ali Legacy Care Program by one of the movement disorder neurologists at the Muhammad Ali Parkinson Center of the Barrow Neurological Institute. Our program coordinator and nurse review the referral and then schedule an appointment for the person in the MDC. Prior to the MDC appointment, I meet with both the person with PD and their care partner over the phone to complete the intake and assessment process.
During the initial MDC appointment, the patient and their family member(s) can expect to meet with their movement disorder neurologist (or our nurse practitioner), a member of the outpatient therapy team (from physical, occupational and/or speech therapy), our chaplain, and the social worker (which is me!).  Since I meet with the person with PD and care partner ahead of time over the phone, our follow-up conversation is focused on providing any resources that were discussed and/or touching base on any additional needs the patient and/or family might have thought of since we last spoke.
Q: Because our readers are from across the country, most would not have access to the Legacy Care Program based on where they live. How would they be able to benefit from palliative care in their own area?
A: For those who do not have access to a program like ours, you can ask your movement disorders physician for a referral to a palliative care team. This team may not treat PD exclusively, but they will likely have had experience with the disease that can be beneficial for you.
Thankfully, there is an international push to incorporate palliative care in Parkinson's programs across the world, so even though it is true that there aren't many palliative programs specific for PD now, that should be changing over the next few years.
Q: Will Medicare and/or private insurance cover the costs of palliative care?
A: I can tell you that our Legacy Care Program is covered and does not affect any other payments made by Medicare and/or private insurances. For any other program, I would advise and strongly suggest that you check with the care-providing agency of choice to confirm coverage.
Tips and Takeaways
Palliative care is a clinical approach that focuses on improving quality of life for people with complex diseases. It can begin at any point during disease progression and work in conjunction with a treatment plan.
Palliative care programs for PD provide people with PD and their care partners additional resources and check-ins as the disease becomes more complex and difficult to manage. Multi-disciplinary care is provided with a focus on maximizing communication between the team members.
Palliative care is different from hospice care. Palliative care refers to all treatments throughout the disease course focused on quality of life. Hospice care on the other hand, is provided to improve the quality of life only when end of life is near.
Discuss the possibility of a palliative care referral with your movement disorders neurologist. A social worker may also be able to connect you with a palliative care program.