Just a few weeks ago, APDA was in Kyoto, Japan for the 5th World Parkinson Congress (WPC) — an international forum for dialogue on the latest scientific discoveries, medical practices, and caregiver initiatives related to Parkinson's disease (PD). WPC takes place every three years, and a very unique aspect of the conference is that it brings together physicians, neuroscientists, clinicians and health professionals from many fields of expertise, as well as people living with PD and care partners for a well-rounded and inspiring experience.
We are excited to bring you a Guest Blog this week – a special WPC update from the President and CEO of APDA, Leslie A. Chambers, who was in Japan for the conference and also served as a panelist for the pre-conference Leadership Forum.
2019 World Parkinson Congress Highlights
Written by Leslie A. Chambers, MSPH
APDA President and CEO
---
A world away, but so close together
No matter where we find ourselves – at home in our headquarters office in New York, at one of our APDA Chapter events in Oklahoma or Wisconsin, at an industry event in California, or all the way across the globe at the World Parkinson Congress (WPC) in Japan – everywhere we go, we are connecting with people who care so passionately about helping people living with PD. APDA's mission is to work tirelessly every day to provide the support, education and research that will help everyone impacted by PD live life to the fullest. At WPC, it was thrilling to meet so many people from around the world who agree wholeheartedly with our mission and are living and breathing it every day in their own local communities.
Stronger Together
Several themes repeated themselves throughout the conversations we had at the APDA booth in the WPC exhibit hall. Whether speaking with people living with PD and their care partners or with our colleagues and counterparts from medical institutions and PD organizations around the world, there was much talk about idea sharing and collaboration. There were many conversations about how we can work together, ideas for staying connected, questions about how to maximize the learnings that we have collectively amassed. We look forward to staying in touch with the many new friends we made and seeing how we can support each other from afar. Despite geographic distance, cultural differences and language barriers, we had many meaningful and insightful discussions.
Research Highlights
A big part of WPC is centered about sharing the latest in PD research. Experts from around the world shared their research results and insights on many topics – a sampling is listed below (along with links to past Closer Look blog posts so you can learn more):
Personalized medicine for PD – and the development of different therapies for different types of PD that may start outside the brain
The biology of Alpha synuclein
The importance of participation in clinical trials, and the challenges of recruiting patients
Advances in stem cell therapy for PD
Discovering new PD genes and risk factors
New exercise approaches to optimize PD symptoms
The full program of presentations and topics covered at WPC is available online.
While we all may get frustrated at times with the pace of research and medical progress, I am always encouraged when I hear renowned doctors talking passionately about their dedication to PD and the latest work they are doing, as I did at WPC.
Poster sessions: APDA's work on display
We were proud to have several posters on display throughout the conference. Rosa Peña, MSW, APDA's Senior Director of Programs and Services Field Operations, presented a poster on entitled Parkinson's Roadmap for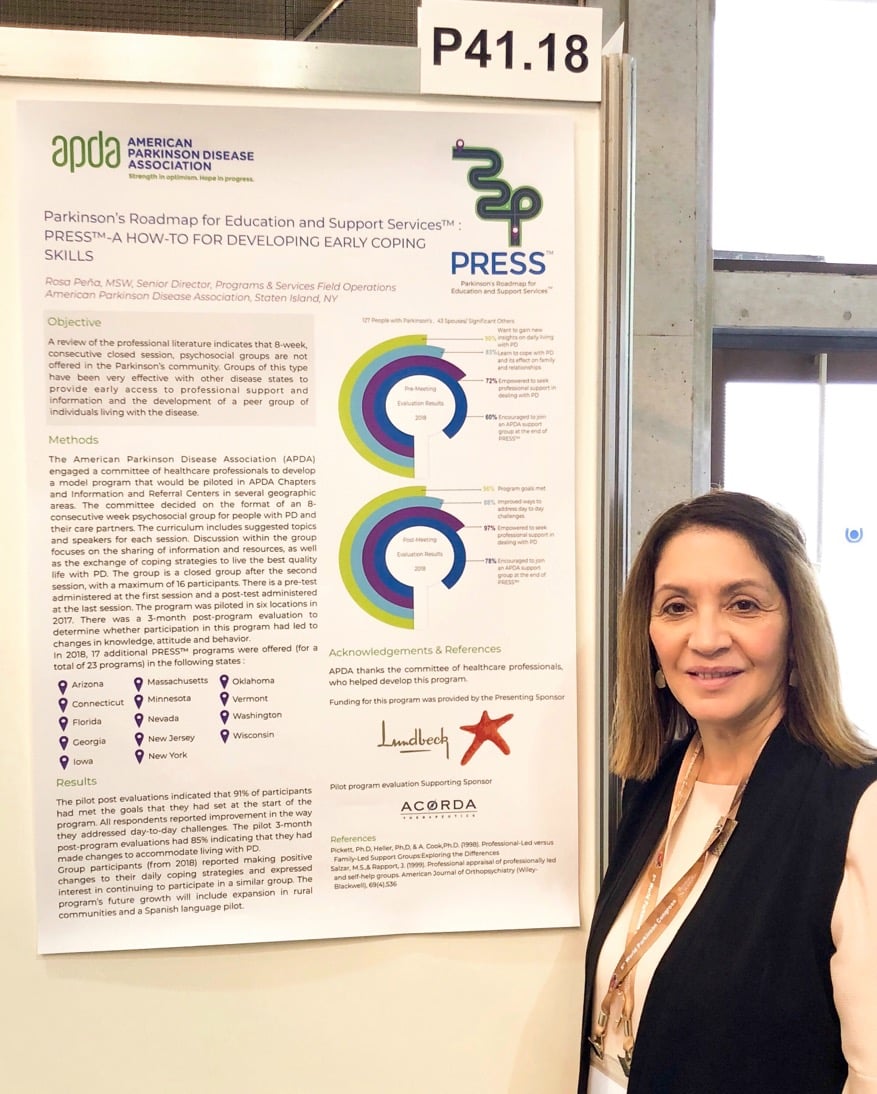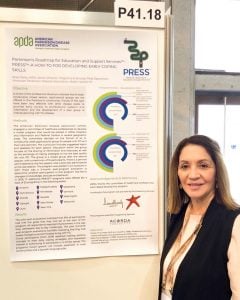 Education and Support Services (PRESS)TM – A How-to for Developing Early Coping Skills that highlighted the success of our signature PRESS program – an eight week in-person support series to address the psychosocial needs of those who have been diagnosed within the last five years. Cathi Thomas, MS, RN, CNRN, from our APDA Massachusetts Chapter and Information & Referral Center presented two posters, along with her colleagues from Boston University School of Medicine, on Service-learning as an introduction to Parkinson's disease for pre-clinical medical students and Providing education and support for newly diagnosed patients and families in the community.
Wellness activities and entertainment
There were a host of wellness activities available for people with PD and their care partners, from exercise and dance classes to massage therapies and networking opportunities. Whether you wanted to get your heart pumping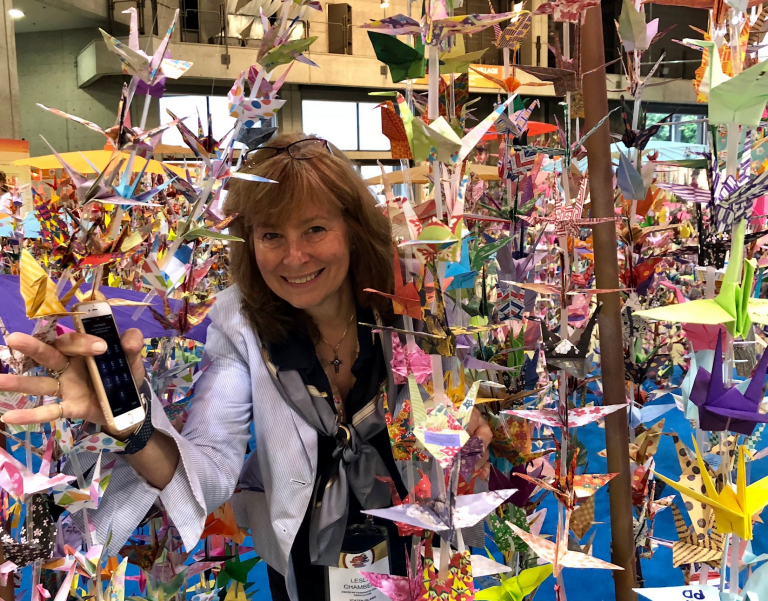 with some boxing, or test out some vocal exercises, it was a great opportunity for people to sample some fun new activities and also take a break from the presentations.
It was lovely to see the many ways the conference incorporated the unique culture and traditions of Kyoto into the experience, from the incredible performances by local Japanese musicians during the Opening Ceremony to a massive display of 15,000 folded paper cranes, to the beautiful bento box lunches, it was a treat to get a taste of our wonderful host city. I was happy to hear that many people we spoke with were managing to take at least a tiny bit of extra time to explore Japan before or after the conference. It would be a shame not to take advantage of being in such a beautiful setting, steeped in history.
Unique collaboration and perspectives
At WPC doctors and researchers from all over the globe shared their learnings. They discussed trends in research, advancements in care, problems still to solve. Patients got to hear firsthand about the work being done to help understand this disease. Some inspiring people presented about life with PD, addressing the surprising benefits as well as the frustrating losses. Whenever you bring together the brightest scientists and most determined advocates, no matter where they are from, you're going to have an incredible sharing of ideas and a collective energy that can only help move things forward for the PD community. And to have all of the key players in the fight against PD – the physicians, researchers, advocates and the people living with the disease together in the same space, talking, sharing, and collaborating is an incredible opportunity and something that really stands out about this conference in particular. (Most conferences are geared either for the medical community or the patients, but not both.)
The most meaningful exchanges for me are always the ones I have with people living with PD. The people who face the challenges PD brings them every day, but who are determined not to give up. The care partners who no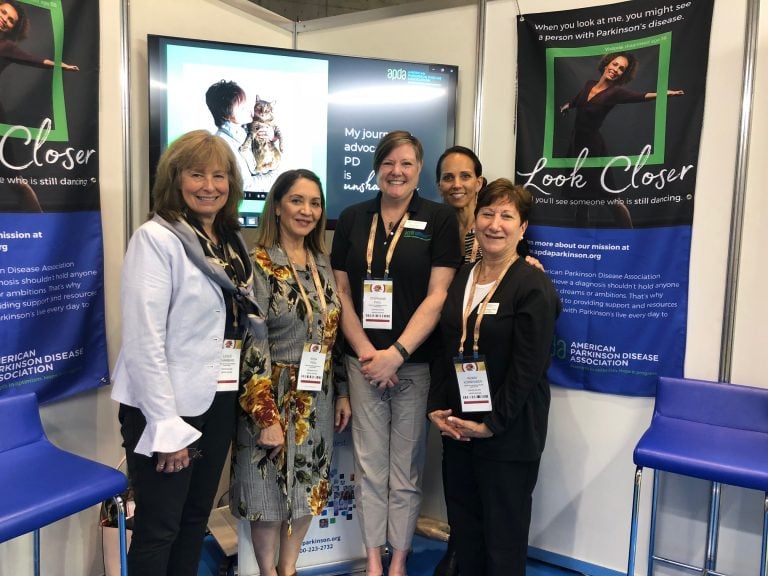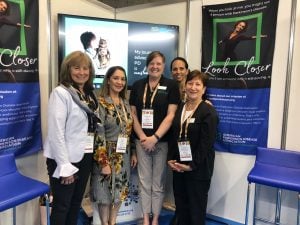 matter how exhausted or scared, remain the biggest cheerleaders and fiercest advocates. It is those moments that remind us so clearly why our work is so important.
We return home more committed than ever to our mission.
Tips & Takeaways
Global conferences like WPC are an exciting opportunity for the latest research findings and advancements to be shared.
Some conferences are not just for those in the medical field. People living with PD attended WPC, contributed to the program content through presentations and conversations, learned how to improve their daily lives though an assortment of wellness activities and more.
Experts from all around the world are working hard to solve the mysteries of PD.
The next WPC will be held in Barcelona, Spain in 2022!
We're so thankful to Leslie for sharing her insights and perspective on WPC. We look forward to bringing you additional Guest Blogs in the future.