More than 1,700 already registered!
Two days of education and inspiration, 25 speakers, live Q&A sessions, and more! February 15-16, 2023
NEW YORK, NY – January 30, 2023 – The American Parkinson Disease Association (APDA) is hosting a very special two-day free virtual conference for people with Parkinson's disease (PD) and their care partners on February 15 and 16, 2023. Specially curated to educate, empower and engage the PD community, the APDA Virtual Parkinson's Conference will provide a fantastic opportunity for people impacted by PD to hear firsthand from leaders in PD treatment and research, as well as enjoy important opportunities to connect with other members of the PD community for support, inspiration, and guidance.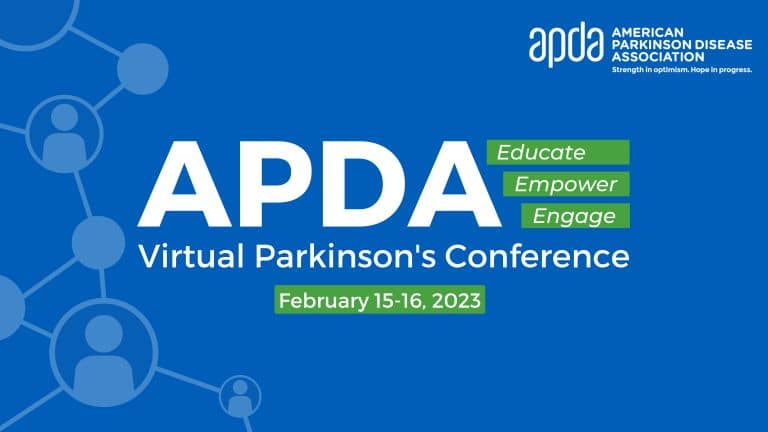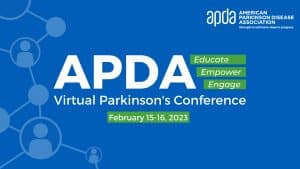 "APDA works tirelessly every day to provide the support, education and research to help everyone impacted by Parkinson's disease live life to the fullest, and we're so excited to bring this comprehensive two-day educational forum to our entire PD community," states Leslie A. Chambers, President & CEO, APDA. "The APDA Virtual Parkinson's Conference will include an important mix of education, inspiration and fun for both people living with PD and their care partners – no matter where they live. Our goal is to arm them with tons of information, useful tips, and a healthy dose of optimism to help them live the best lives possible."
Conference Highlights:
25 incredible speakers! From top medical experts in their field to people with PD ready to share their stories – attendees get a great mix of perspectives and expertise
Lots of opportunities for LIVE Q&A
Concurrent sessions let guests choose the topics they're most interested in
Activity-focused breakout sessions where attendees can sing, dance and draw
Virtual 'Meet and Greet' with APDA Staff and Chapter Leaders.
It's free!
Overview of Topics*:
Less common symptoms of PD
Anxiety and cognitive behavioral therapy
Pros and cons of DBS
Care partner perspectives
GI issues & PD
The science behind PD and singing
And much more!
*Full, detailed agenda and speaker information and bios available online.
"Through our nationwide network of Chapters and Information & Referral Centers, we are serving and supporting local Parkinson's communities every day. For this virtual event, we are able to introduce these folks, and so many others, to an exciting mix of experts they might never get to meet otherwise," states Chambers.
The program will run approximately 12:00 p.m. – 3:30 p.m. ET each day (9:00 a.m. – 12:30 p.m. PT).
The conference is made possible thanks to generous support from Acadia Pharmaceuticals, as well as The Simone Foundation.
Registration for the APDA Virtual Parkinson's Conference: Educate, Empower, Engage is free and open now. See the full event agenda, speaker information, and more by visiting www.apdaparkinson.org. Questions about registration can be directed to apda@apdaparkinson.org or 800-223-2732.
About the American Parkinson Disease Association:
The American Parkinson Disease Association (APDA) is the largest grassroots network dedicated to fighting Parkinson's disease (PD) and works tirelessly to help the more than one million people in the U.S. with PD live life to the fullest in the face of this chronic, neurological disorder. Founded in 1961, APDA has raised and invested more than $226 million to provide outstanding patient services and educational programs, elevate public awareness about the disease, and support research designed to unlock the mysteries of PD and ultimately put an end to this disease. To join us in the fight against Parkinson's disease and to learn more about the support APDA provides nationally through our network of Chapters and Information & Referral (I&R) Centers, as well as our national Research Program and Centers for Advanced Research, please visit us at www.apdaparkinson.org.