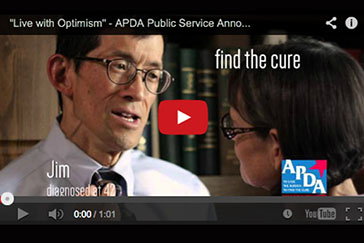 Announcing our Public Service Announcement
APDA launched a Public Awareness campaign "Live with Optimism" airing on television and radio nationwide. This critical awareness initiative was developed to raise awareness and new funds that will continue to Ease the Burden – Find the Cure for the 1 million people in the U.S. living with Parkinson's disease.
Take a moment to watch this important PSA, share it with your friends and family or, click here to make your donation now.
Are you interested in becoming more involved?
Whether you are living with PD, know someone who is, or just want to support a good cause...
Get involved and live with optimism.
Optimism Walk
Friends, families, and individuals coping with Parkinson's disease join together to participate in Optimism Walks across U.S. raising awareness and funds to Ease the Burden – Find the Cure for Parkinson's.


Join now
Inspire Others
No what matter your connection to Parkinson's disease is, it could well be your personal journey that touches another to ignite a sense of Optimism. Give the gift of hope to others that a life filled with dignity and Optimism is possible.

Share your story