Telemedicine, or telehealth (visiting with your health care provider electronically, using a video conferencing service) became a popular healthcare option during the COVID-19 pandemic because people still needed to meet with their doctors but were advised to stay at home and limit in-person interactions. It turns out that Parkinson's disease (PD) is well-suited for telemedicine due to the audio and visual nature of a movement disorders examination. But now that in-person appointments are more readily available, should you stick with virtual visits? Is it right for everyone? Are there instances when it is better to see your doctor in person?
Our special guests Dr. Chantale Branson and Dr. Drew Falconer are movement disorder specialists with expertise in telemedicine and they are ready to talk to you and answer your questions live during the program. The conversation will be moderated by APDA's Chief Scientific Officer, Dr. Rebecca Gilbert.
Join us and you will learn:
• Pros and cons of using telemedicine
• Bureaucratic obstacles to telemedicine in a post-COVID world (e.g. insurance coverage)
• How to find a movement disorder specialist who will perform telemedicine
• How to properly prepare for a telemedicine visit
• And much more!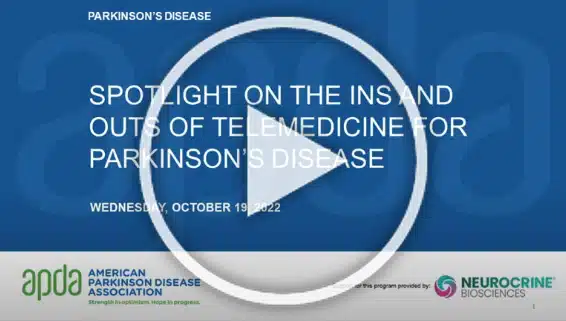 Support from for this program was provided by:


Subscribe to our Spotlight Series on iTunes to hear more.
Subscribe on iTunes