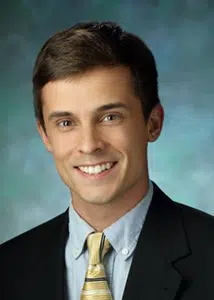 Investigator:
Ryan Roemmich, PhD
Name of Institution:
Hugo W. Moser Research Institute at Kennedy Krieger, Baltimore, MD
Project Title:
An automated mHealth approach for video-based motor assessment in Parkinson's disease
---
Investigator Bio:
Dr. Ryan Roemmich is an Assistant Professor at the Center for Movement Studies at the Kennedy Krieger Institute, and the Department of Physical Medicine and Rehabilitation at the Johns Hopkins University School of Medicine in Baltimore, MD. He completed a BS in Biological Systems Engineering at the University of Nebraska-Lincoln, a PhD in Biobehavioral Science at the University of Florida, and a postdoctoral fellowship at the Kennedy Krieger Institute/Johns Hopkins University School of Medicine. He is a human movement scientist interested in gait and rehabilitation of persons with neurologic damage or disorders. His research focuses on understanding how the nervous system controls movement and how we can improve movement in people with motor dysfunction.
Objective:
To develop efficient tools that provide useful data about motor function in people with Parkinson's disease
Background:
The motor difficulties that affect people with PD tend to worsen over time, and frequent motor assessment is essential for providing effective care. Current PD motor assessments rely on subjective clinical scales or expensive equipment, highlighting a clear need for new, accessible approaches that enable objective motor assessment in virtually any setting. We propose a new "pose estimation" approach for PD motor assessment. Pose estimation is an emerging technology that automatically tracks human movement from video recordings. The project proposes to capture objective, clinically-relevant measurements using only a smartphone video. There is significant potential for using this technology to automate PD motor assessments in the home or clinic, which could improve access and quality of care for many people with PD.
Methods/Design:
First, we will test a pose estimation approach for whole-body motor assessment in people with PD. Gait dysfunction is common in PD but difficult to assess in the home or clinic, and PD often causes difficulty in performing repetitive movements (e.g., finger or toe tapping) that is typically measured using subjective clinical scales. We will test an objective, video-based approach for tracking gait and repetitive movements in persons with PD and compare to ground-truth measurements. Second, we will contrast motor deficits identified by pose estimation with expert human assessment from movement disorders neurologists, which is how PD movement is currently assessed in the clinic. We will compare how well deficits in gait and repetitive movements detected by our pose estimation approach align with neurologist ratings of these tasks.
Relevance to Diagnosis/Treatment of Parkinson's Disease:
Our goal is to provide clinicians and researchers with new tools to obtain data about their patients' movement patterns and ultimately, improve their clinical care. These tools can enable remote assessment of motor function, as they require only readily accessible household devices (e.g., smartphones, tablets) that can be implemented in virtually any setting, including the home and clinic. If successful, this proposal could lead to a paradigm shift in the way that we measure movement in people with PD.