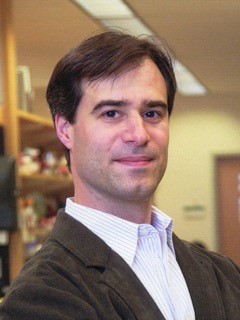 Name of Institution:
Brigham and Women's Hospital/Harvard Medical School, Boston, Massachusetts
Project Title:
The role of astrocytes in GCase-mediated alpha-synuclein metabolism
Investigator:
Matthew LaVoie, PhD
Matthew J. LaVoie, PhD, is an Associate Professor of Neurology at Brigham and Women's Hospital and Harvard Medical School. He received his PhD from the University of Pittsburgh and completed his postdoctoral fellowship at BWH, where he directs a lab primarily focused on Parkinson's disease (PD).
The LaVoie Lab is dedicated uncovering the earliest molecular events that cause PD. We focus on translating information from the rare genetic forms of Parkinson's Disease into insights into the far more common sporadic cases. Our current efforts involve the cell and neurobiology of LRRK2 and parkin.
Research Objectives and Relevance to Diagnosis/Treatment of PD:
Inclusions consisting of alpha-synuclein protein are a key pathological feature of PD, and increased alpha-synuclein is believed to be causal for the disease. The goal of this study is to examine underlying mechanisms of PD-related glucocerebrosidase (GCase) dysfunction on the accumulation of alpha-synuclein. For this process, the contribution of leucine-rich repeat kinase 2 (LRRK2), another PD-associated protein previously shown to be involved in turnover of aggregate proteins, will also be determined.
Establishing a role for GCase mutation in alpha-synuclein metabolism in astrocytes, cells that may contribute to removal of secreted alpha-synuclein from the brain, will provide necessary information regarding how GCase dysfunction causes PD. In addition, numerous drug companies have developed LRRK2 inhibitors as potential therapeutics for PD, and a role of LRRK2 in GCase regulation might support the use of inhibitors as a drug for these GCase-related Parkinson's Disease patients.