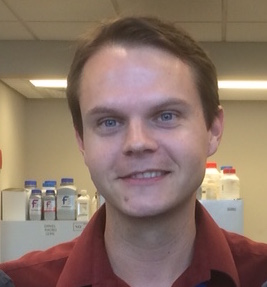 Name of Institution:
Oregon Health and Science University (OHSU), Portland, Oregon
Project Title:
Identifying pathogenic translational targets of G2019S LRRK2 in dopamine neurons
Investigator:
Ian Martin, PhD
Dr. Martin is Assistant Professor of Neurology at OHSU. His research interests include the causes and treatment of neurodegenerative dis­eases. The central focus of his laboratory, housed in the Jungers Center for Neurosciences Research at OHSU, is on Parkinson disease genetics and the role of LRRK2 kinase activity in disease development. Prior to his current position, he undertook postdoctoral training as a New York Stem Cell Foundation Druckenmiller Fellow with Ted and Valina Dawson at the Johns Hopkins University Institute for Cell Engineering.
Research Objectives and Relevance to Diagnosis/Treatment of PD:
The overall objective of the project is to assess how wild type and mutant forms of LRRK2 associated with Parkinson's Disease affect translational profiles of different neuronal sub-populations using transgenic Drosophila melanogaster models.
Considering the high energetic cost of protein production to a cell, regulated protein translation plays an essential role in supporting organismal development and maintenance under variable conditions. Accumulating evidence supports a multifaceted and complex role for LRRK2 in regulating protein homeostasis by directly impacting autophagic protein turnover, vesicular protein trafficking and the biosynthesis of proteins via ribosomal protein phosphorylation. The common PD-linked G2019S mutation in LRRK2 has been shown to cause an increase in bulk protein translation via hyper-phosphorylation of ribosomal protein s15 in Drosophila brain. Blocking this through protein synthesis inhibitor treatment or phospho-deficient T136A s15 expression prevents the age-related loss of dopamine neurons and locomotor deficits observed in G2019S LRRK2 transgenic flies. Translational profiling of mutant LRRK2 flies may uncover targets that are important in neurodegeneration and may be suitable for therapeutic intervention.