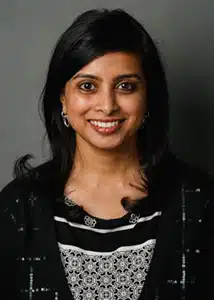 Investigator:
Krithi Irmady, MD, PhD
Name of Institution:
Rockefeller University, New York City, NY
Project Title:
RNA regulation in Parkinson's disease and levodopa-induced dyskinesia
---
Investigator Bio:
Dr. Krithi Irmady is physician-scientist and a neurologist with specialty training in movement disorders. She holds a degree in Medicine from Mysore Medical College, Rajiv Gandhi University of Health Sciences, India, and a doctoral degree in Neuroscience from the University of Heidelberg, Germany. Dr. Irmady furthered her training as a postdoctoral fellow at Weill Cornell Medical College, where she investigated the role of small RNAs in brain disorders. She completed her residency in Neurology at Yale New Haven Hospital. Subsequently, she pursued a fellowship in Movement Disorders at Columbia University Medical Center and attained a master's in clinical and Translational Research from Rockefeller University, New York. Currently, Dr. Irmady is an instructor at Rockefeller University. Her long-term research interest centers around comprehending the molecular mechanisms, specifically those involving RNA regulation, that are critical to the clinical manifestations of Parkinson's disease (PD).
Objective:
PD affects the brain's dopamine-dependent regions, leading to motor problems. This project will study RNA, a key molecule in the body, to uncover key details about PD's development and progression.
Background:
The loss of dopamine, a crucial neurotransmitter, causes the motor issues seen in PD. Long-term medication use can lead to abnormal movements called dyskinesias. Although the precise molecular processes behind these symptoms are not fully understood, research suggests that changes in RNA, which acts as a bridge between DNA and proteins, play a significant role in the Parkinson's brain.
Methods/Design:
To investigate PD, the project will use postmortem brain samples from affected individuals, focusing on the brain region involved in motor symptoms. Advanced techniques will be employed, such as RNA sequencing, cross-linking immunoprecipitation, and mass spectrometry to analyze the RNA and protein changes in the brain. Additionally, the project will focus on the role of RNA-binding proteins in controlling these RNA changes.
Relevance to Diagnosis/Treatment of Parkinson's Disease:
This research project will further our understanding of the molecular mechanisms in the dopamine-dependent areas of the brain affected by PD. By delving into the specific processes that regulate RNA in these regions, the research aims to uncover potential targets for treating both PD and levodopa-induced dyskinesia. This knowledge could pave the way for new therapies, improving the quality of life for individuals living with PD.