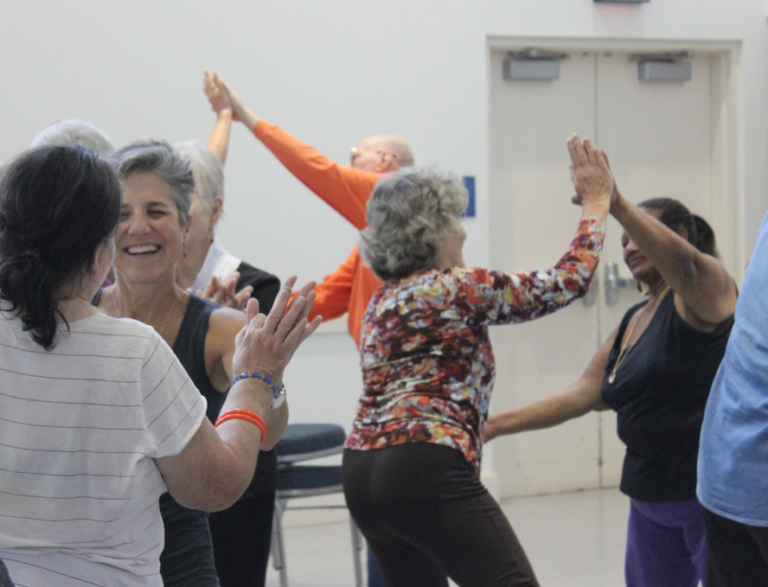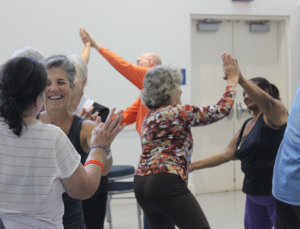 APDA Connecticut Chapter is proud to support Neighborhood Music School (NMS) the Connecticut affiliate of Dance for PD®, the award-winning, internationally-acclaimed program of The Mark Morris Dance Group. Dance for PD® offers dance classes for people with Parkinson's disease and related neurological disorders through its network of partners and affiliates in more than 300 communities in 25 countries.
In Dance for PD® classes, people are empowered to explore movement and music in ways that are refreshing, enjoyable, stimulating, and creative. Dance for PD® focuses on developing artistry and grace while addressing concerns specific to people with Parkinson's and other neurological disorders, such as balance, flexibility, coordination, gait, social isolation, and depression.
Participants enjoy artistic and creative expression and the enjoyment of social interactions with others experiencing similar challenges. No dance experience is necessary and walkers, canes, and wheelchairs are welcome. (While many may experience health benefits or the alleviation of symptoms, it should be noted that this program is not intended to be a therapeutic offering.)
Classes are held weekly and are open to people with any type of movement disorder, their companions, and visitors. Classes are free of charge and available for drop-in anytime.
Due to COVID-19, all Dance for PD® classes is currently offered online via Zoom. The weekly schedule:
Mondays: 10:00 a.m. – 11:15 a.m.
For more info call 203-624-5189 ext. 57 or talbert@nmsnewhaven.org
Fridays: 10:00 a.m. – 11:15 a.m.
For more info call 203-624-5189 or talbert@nmsnewhaven.org
On Mondays and/or Fridays at 10 am ET, please click the link below to join the class:
Zoom class link:
https://us02web.zoom.us/j/83028041993?pwd=a2pySGVIYlMxMm9ZcGo2MmgzQ3BJZz09
Meeting ID: 830 2804 1993
Passcode: dforpd
Wednesdays, 10:30-11:45am
Instructor: Rachel Balaban, Dance for PD® Certified Teacher
Contact: rbalaban@nmsnewhaven.org 401.261.7062
Class link:
* This program is supported by a community grant provided by the APDA Connecticut Chapter.