APDA's Diversity in Parkinson's Disease Research Conference 2019
Expanding the depth and breadth of PD Research and Care
Historically, PD research has not fully represented the people who live with the disease and has predominantly reflected study of older, Caucasian men. While the research done to date has been tremendously valuable, APDA is eager to expand the research so that it is more inclusive of people of varying ages, sexes, races, and ethnicities. The lack of diversity is not just relevant to PD research. It also applies to access to medical care, programs and services. There are significant disparities when it comes to who is getting the proper care and support needed, and who isn't.
APDA convened the first-ever Diversity in Parkinson's Disease Research Conference on May 17, 2019, to address the unique and urgent needs surrounding PD in diverse and under-served communities. With the support of a grant from the prestigious Patient-Centered Outcomes Research Institute (PCORI), APDA gathered experts to present the current data concerning PD in diverse populations and to spur conversation amongst participants of ways to further our understanding of PD in these populations.
The conference brought together researchers, clinicians, people with PD, care partners, patient advocates, nurses, research coordinators and social workers. Conference participants, representing 15 states, came from academic medicine, community hospitals, pharmaceutical companies, the Veterans Administration, and patient advocacy groups.
Speakers presented lectures on the health disparities and differences between diverse PD populations, addressing topics which included:
1. Disparities in care and outcomes in diverse PD populations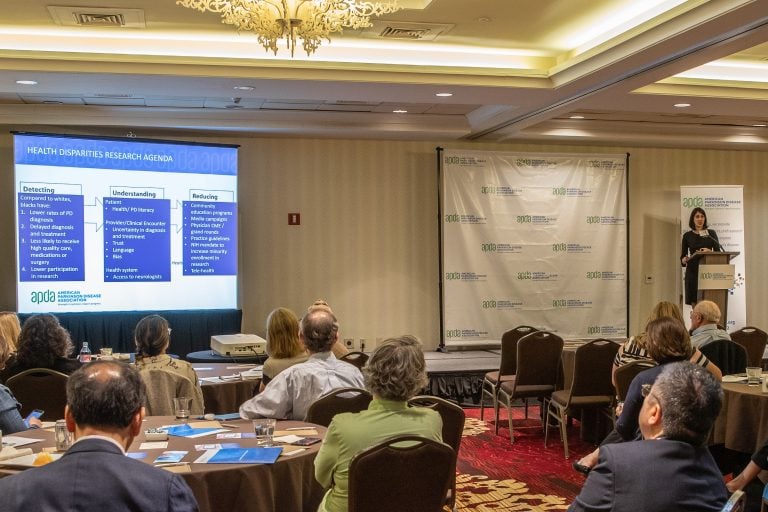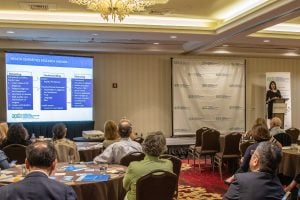 This presentation focused on health disparities that afflict some minority populations and laid out a blueprint of how to overcome these challenges. First the disparities must be detected and measured. Then the reasons for the disparities must be understood and finally programs must be implemented to reduce the disparities.
One example of a disparity that has been detected is: African Americans are referred to deep brain stimulation (DBS) surgery at much lower rates than Caucasians. Now that research has detected that this disparity exists, further research must now be aimed to understand why this disparity exists. Is it because the clinical characteristics of African American patients are different than Caucasians and are less likely to be good DBS candidates? Is physician bias playing a role? Are African American patients referred for surgery but are less willing to undergo it? Once the research postulates the reason or reasons behind the disparity, then programs can be implemented to address the issue and ensure that all people with PD have access to the treatments that are best for them.
2. Disparities in PD clinical trial enrollment
It is well studied that clinical trial participation of minorities in all fields of medicine is low. In clinical trials for PD for example, non-Caucasian participation has historically been three-fold less than the representation of non-Caucasians in the general population. One conference lecture focused on reasons that this may be the case and potential interventions that could increase minority participation in clinical trials.
One example of a program that has had success in the field of cancer research, and could be implemented for PD clinical trials, is the institution of patient navigators, professionals trained to support people throughout the clinical trial process. Another intervention is the writing of recruitment letters to potential trial participants which explains the need for people from minority communities to enroll in clinical trials. A third idea is using community settings (e.g. Senior Centers) as research sites to make involvement in clinical trials more convenient and more accessible.
3. Overview of genetics in diverse PD populations
The genetic mutations that contribute to PD vary significantly between populations. This means that in order to discover all the mutations that contribute to PD, genetic studies must include participants of varying ethnicities, which has not historically been the case. In fact, the PD treatments of the future may very well be tailored to particular genetic mutations. If different people will receive different treatments depending on which genetic mutation they have, then it is essential that all populations are studied and our understanding of the genetics of PD is as complete as possible.
Another important element to consider is that each discovery of a new genetic mutation that causes PD opens up a window into our understanding of PD more generally. Therefore, the discovery of a genetic mutation in one population could have implications for the entire PD community.
4. Overview of biomarkers research in diverse PD populations
Biomarkers are measurable characteristics in the body which indicate that disease is present. Examples can be a laboratory test, a clinical test or an imaging test. With further research into differences between PD in various populations, the search for a biomarker for PD may need to take those differences into account. Research into this field is ongoing.
The conference also presented lectures that highlighted successes in addressing health care disparities in fields other than Parkinson's disease. Speakers presented work from the fields of multiple sclerosis and hypertension.
An engaging People with PD and Care Partner panel brought the patient voice to the discussion. Participants in the panel, who had been involved in planning the conference, addressed issues universally experienced by people with PD as well as unique concerns of Hispanic and African American people with PD.
Open Floor Discussion
Finally, a discussion among all the conference participants elicited ideas on how to better study health disparities and differences between diverse PD populations. APDA plans to turn the challenges identified into the basis for a specific grant that will be awarded each year to support research that is focused on closing the diversity gaps. The APDA Diversity in Parkinson's Disease Research conference has sparked ongoing conversation with the ultimate goal of bringing quality care to all.
Tips and takeaways
On May 17, 2019, APDA organized a Diversity in Parkinson's Disease Research conference which sought to explore the health disparities and differences between PD in various ethnic populations
APDA ultimately plans to create a specific grant to support further research into these vital issues.
You can make a difference now and help fund APDA's important work by making a gift of any size today. Thank you!