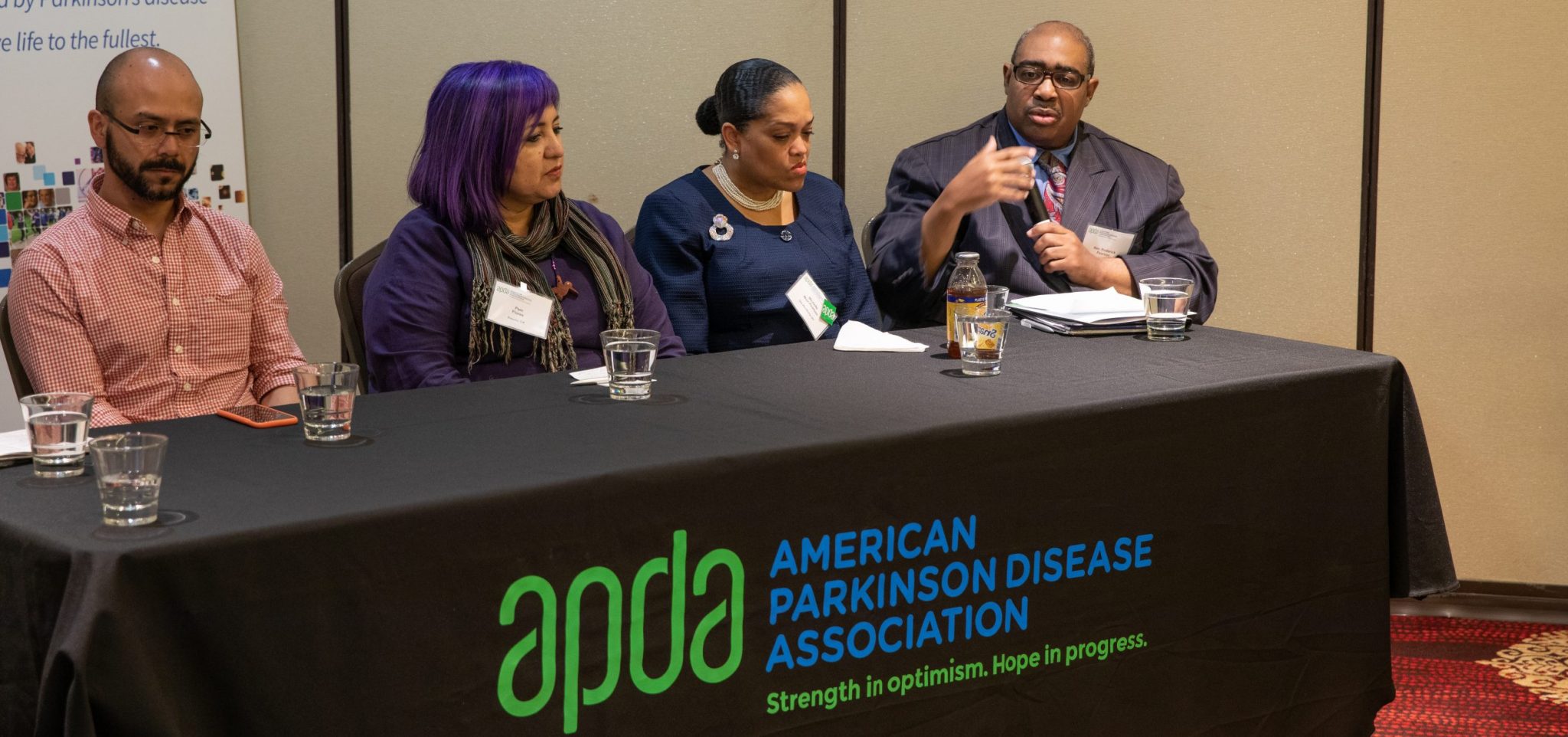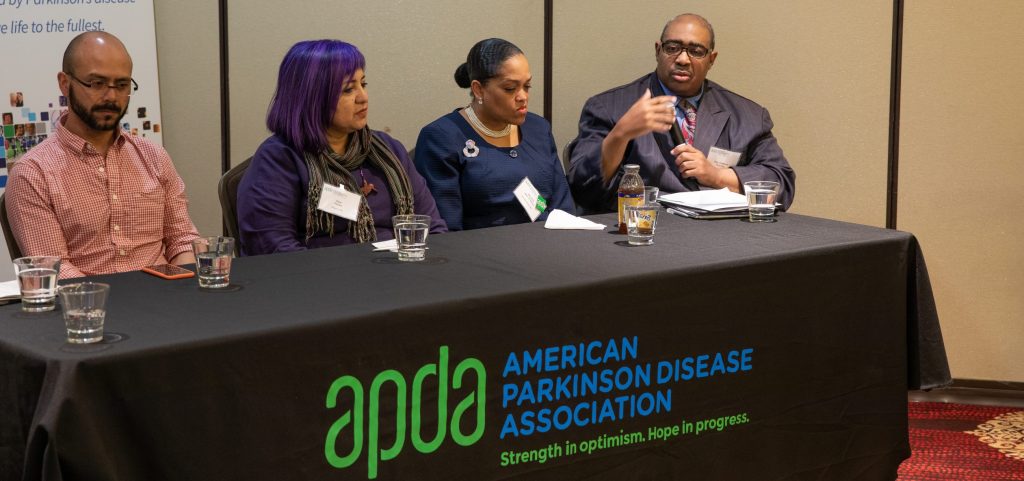 American Parkinson Disease Association's Diversity in Parkinson's Disease Research Conference
On May 17, 2019, the American Parkinson Disease Association (APDA) convened the first-ever Diversity in Parkinson's Disease Research Conference to address the unique and urgent needs surrounding PD in diverse and under-served communities.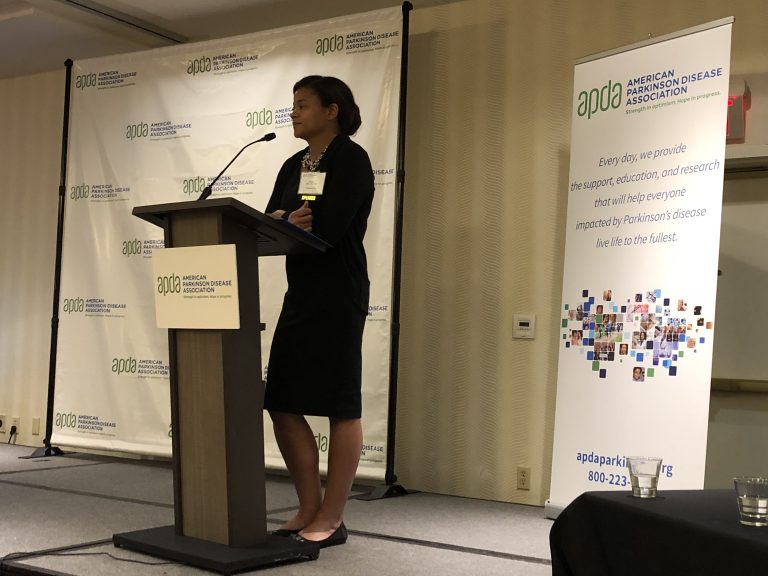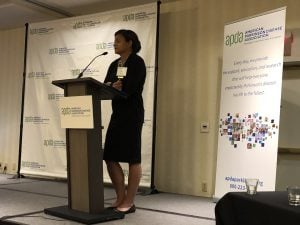 With the support of a grant from the Patient-Centered Outcomes Research Institute (PCORI), APDA gathered experts to present the current data concerning PD in diverse populations and to spur conversation among participants of ways to further our understanding of PD in these populations.
The conference brought together researchers, clinicians, people with PD, care partners, patient advocates, nurses, research coordinators and social workers. Conference participants, representing 15 US states, came from academic medicine, community hospitals, pharmaceutical companies, the Veterans Administration, and patient advocacy groups. A discussion among all the conference participants elicited ideas on how to better study health disparities and differences in PD populations of varying ethnicities, races, geographies and socio-economic backgrounds. The conference established that current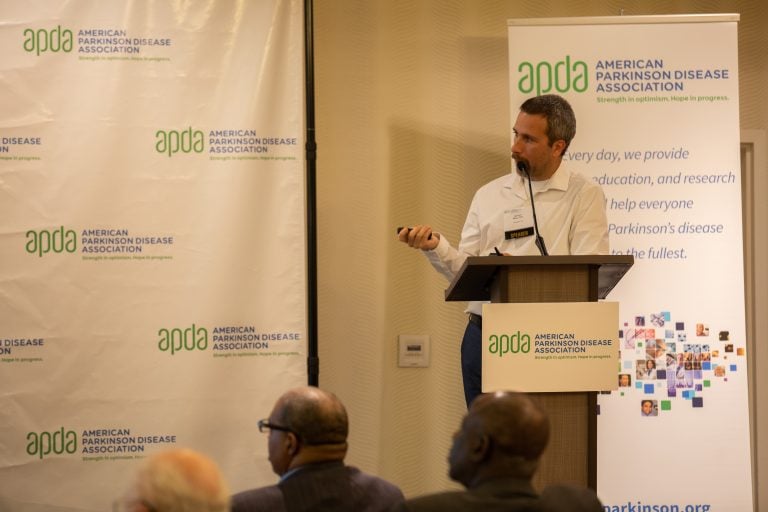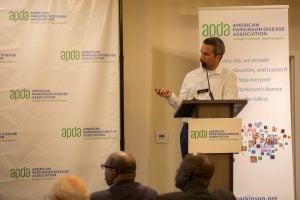 research has shown substantial disparities in clinical care and outcomes in diverse PD populations and decreased minority participation in clinical trials. In addition, differences (including genetics, but also encompassing clinical features, response to treatment, co-morbidities, prevalence, natural history, genetics, biomarkers) between minorities have not been fully explored.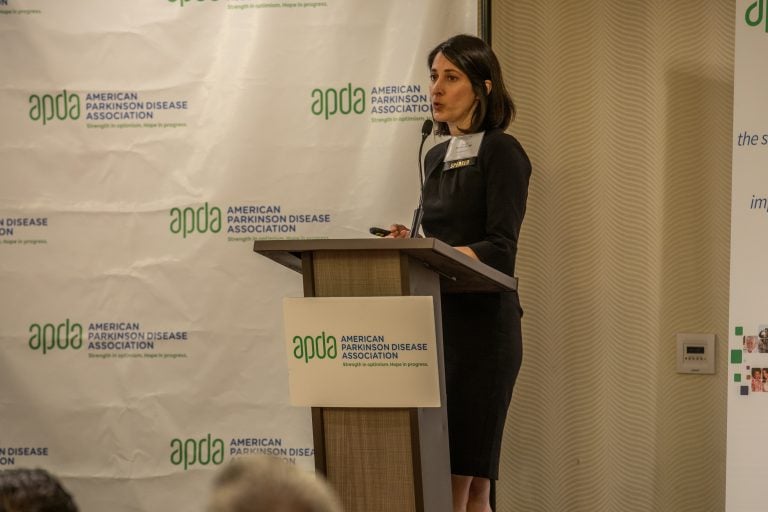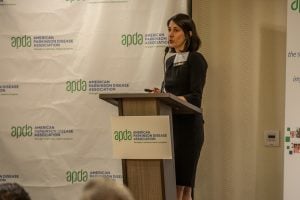 Building off of these principles, participants formulated research study ideas that would detect and measure these disparities or differences, understand the reasons behind these disparities or differences, and/or test interventions to improve disparities. Based on the findings of the conference, APDA has written a Request for Applications (RFA) for a  grant to support additional research in this field.
APDA Diversity in Parkinson's Disease Research Conference Agenda:
Welcome: 
Patrick F. McDermott, Chairman of Board, APDA
Leslie A. Chambers, MSPH, President & CEO, APDA
Rebecca Gilbert, MD, PhD, Vice President, Chief Scientific Officer, APDA
Opening Remarks:  David G. Standaert, MD, PhD, Chairman of APDA Scientific Advisory Board
Overview of disparities in care and outcomes in diverse PD populations: Nabila Dahodwala, MD, MS
Disparities in PD clinical trial enrollment:  Lisa Shulman, MD
Clinical trial update of "African American patients with Parkinson's disease: A hospital-based study compared to Caucasian patients":  Tao Xie, MD, PhD
Overview of genetics in diverse PD populations: update on the LARGE-PD study:  Ignacio Mata, PhD
Overview of biomarkers research in a diverse PD population: Sex differences:  Elizabeth Disbrow, PhD
Patient Panel and Overview of APDA Diversity Initiatives: Rosa Pena, MSW, Senior Director of Programs & Services Field Operations, APDA
Discussion #1: What are the unanswered research questions that need funding?  All Participants, Moderator: Allison Willis, MD, MS
Bringing care to patients: Ray Dorsey, MD
Research done differently: Patient-Centered Comparative Effectiveness Research on Parkinson's Disease: Mari Kimura, PhD
Novel approaches to achieve health equity: Lessons for addressing disparities in Parkinson's Disease:  Joseph Ravenell, MD
Strength in diversity: How a multi-stakeholder partnership network is addressing minority under-representation in MS research:   Hollie Schmidt, MS
Discussion #2: What can we learn/adapt from what has already been done in other fields?  All participants
Click on the slides below to view the full presentation: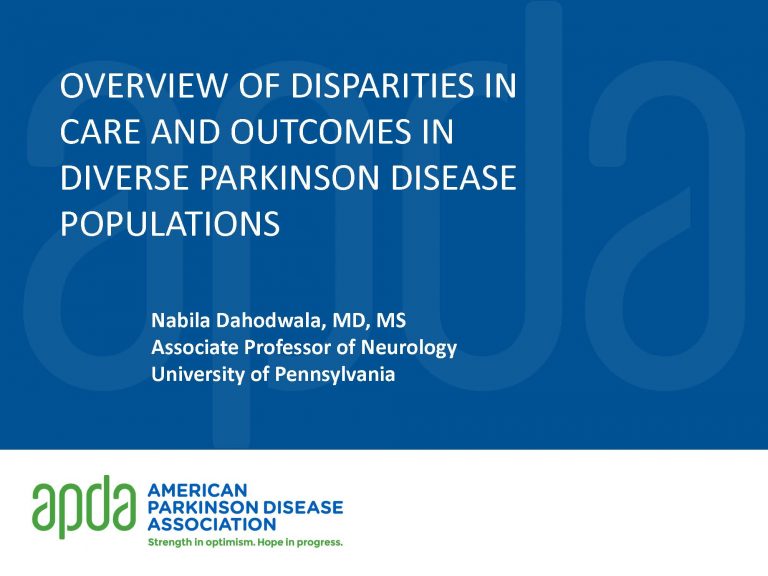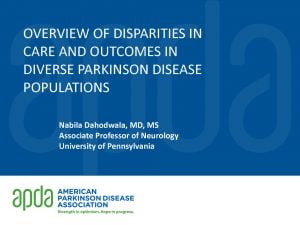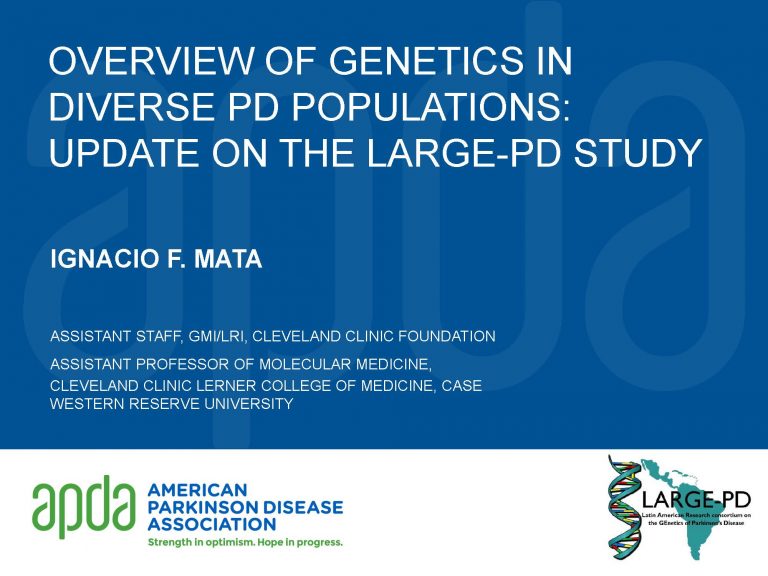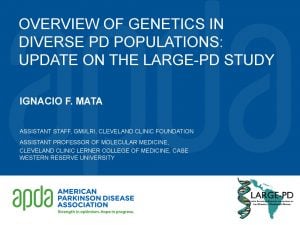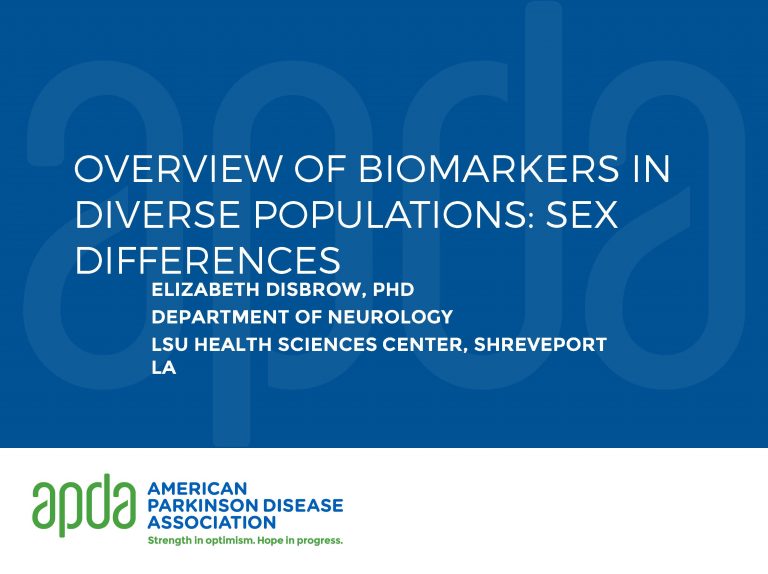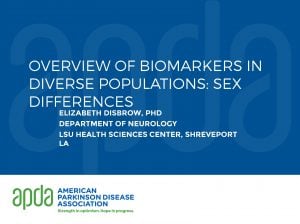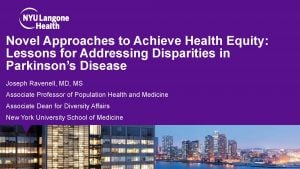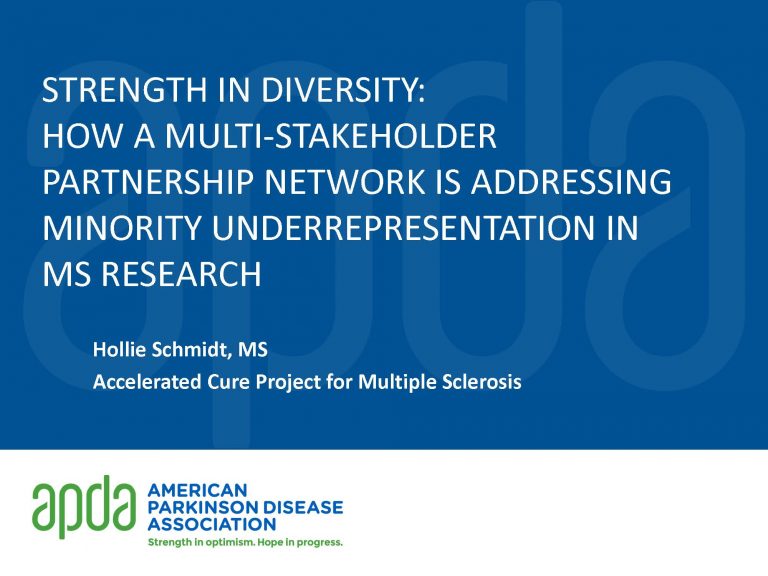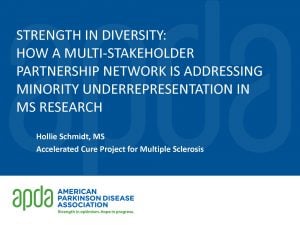 The RFA is currently being offered as one of APDA's research opportunities for application and funding in Academic year 2020-2021.
Below is the link for the Research for All Grant opportunity:
https://www.apdaparkinson.org/article/apda-research-for-all-grant-academic-year-2020-2021/