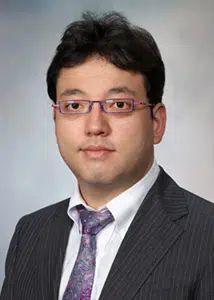 Investigator:
Hiroaki Sekiya, MD, PhD
Name of Institution:
Mayo Clinic Jacksonville, Jacksonville, FL
Project Title:
Differential protein and gene expression by digital spatial profiling in neurons with α -synuclein oligomers or Lewy bodies
---
Investigator Bio:
Hiroaki Sekiya received his M.D. degree from Kobe University School of Medicine in Kobe, Japan, and then pursued clinical training in Neurology. He also obtained his PhD at Kobe University Graduate School of Medicine, where he studied the pathogenesis of synucleinopathies including Parkinson's disease (PD) and Multiple system atrophy and revealed the widespread distribution of α -synuclein oligomers in the brain tissue of human synucleinopathies. After serving as Assistant Professor in the Division of Neurology at Kobe University, he joined Dr. Dickson's laboratory at the Mayo Clinic Jacksonville. He continues his research on the role of α-synuclein oligomers in the pathogenesis of synucleinopathies.
Objective:
To reveal the total impact of α-synuclein oligomers and Lewy bodies on neurons in PD.
Background:
In PD, α-synuclein becomes insoluble and accumulates in the cells. α-synuclein oligomers are early-stage aggregates, whereas Lewy bodies are late-stage aggregates. It has recently been proposed based on cell and animal experiments, that not only late-stage Lewy bodies are toxic to neurons, but that early-stage oligomers are as well. Previously, we found that α-synuclein oligomers are more widely distributed than Lewy bodies in human PD brains. The significance of oligomers on brain function is still unclear, and we seek to investigate the role that oligomers play in neuronal degeneration and cell death in PD.
Methods/Design:
This study will utilize digital spatial profiling, a new technique that allows quantitative analyses of protein and gene changes at the cellular level. We will stain for α-synuclein oligomers with a novel staining method and Lewy bodies with a common staining method. We will examine protein and gene changes in neurons with α-synuclein oligomers, neurons with Lewy bodies, and unaffected neurons to assess early pathologic changes caused by α-synuclein oligomers.
Relevance to Diagnosis/Treatment of Parkinson's Disease:
We aim to reveal the pathological roles of each type of α-synuclein aggregate. Our proposed study is unique because it focuses on early aggregates of α-synuclein, performs high-resolution analysis at the cellular level, and uses human PD brain samples. This work will hopefully lead to discovery of new biomarkers and possibly new therapeutic targets for PD.