In Memoriam - Joel M. Gerstel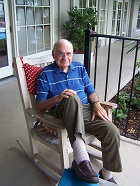 The American Parkinson Disease Association (APDA) mourns the passing of Mr. Joel M. Gerstel, its former President and CEO who passionately served the organization and the Parkinson's community as a national board member and then as its Chief Staff leader for over 30 years.
Mr. Gerstel was born and raised in Long Island, New York and received his B.A. degree from New York University.
Mr. Gerstel initially became involved with APDA when his brother-in-law was diagnosed with Parkinson's disease. As Joel watched him gradually diminishing, he wanted to do something to help him and others like him. Ironically, in 2012, Mr. Gerstel was diagnosed with Parkinson's syndrome, which results in many symptoms of Parkinson's without a diagnosis of the disease itself.
Prior to assuming the position of Director of Operations in 1995, he served as a member and officer of the APDA Board of Directors for ten years. In 1997, Mr. Gerstel was named APDA's Executive Director and in 2011 was appointed President and CEO. Mr. Gerstel was appointed to represent the Parkinson's disease community in 2003 on the Transportation Security Administration's Disability Coalition, a division of the U.S. Department of Homeland Security. Mr. Gerstel retired in 2013.
From 1986 to 1995, Gerstel served as the development director for the Pride of Judea Mental Health Center in Douglaston, New York.
Mr. Gerstel served as a chairman of both the Queen's Borough President's Task Force on Zoning, and Queens Community Planning Board 14. He was a former president of the Great Neck Rotary Club, and the Chamber of Commerce of the Rockaways. He served as a member of the Small Business Advisory Council, District I, and was a delegate to the New York State Conference on Small Business and to the White House Conference on Small Business.
"The legacy that Joel leaves to APDA and the Parkinson's community is unmatched," explains Leslie A. Chambers, APDA President and CEO. "His tireless devotion and dedicated service to improve the quality of life for those living with this disease along with his relentless efforts to support critical research continues to touch us all deeply today. This Research Fund will be one small way to keep his memory alive and pay tribute to all he has done to change the landscape of Parkinson's."

Joel is survived by his wife, Deanne, two children, Jeffrey and Sharon and three grandchildren. Condolences may be sent to the Gerstel Family at 404 Arbuckle Avenue, Cedarhurst, NY 11516.
We send our condolences to his family on behalf of all the families he faithfully served.
Click here to make a donation to the Joel M. Gerstel Memorial Fund